2015 Volkswagen Passat GTE is a Plug-in Hybrid Debuting in Paris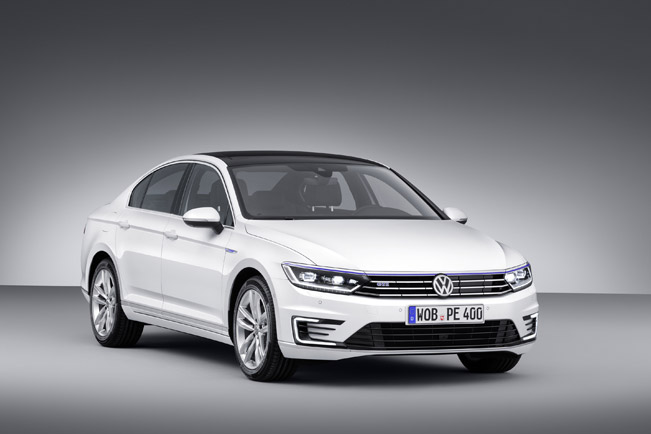 Volkswagen Passat GTE is to make European première at the Paris Motor Show this week. This is one of the most innovative cars in its class, being equipped with progressive drive, assistance and infotainment systems. The special thing about the GTE is that it is the first Passat with a plug-in hybrid drive system, thus delivering zero-emission. The long-distance vehicle will be offered as a saloon or estate.
To go into details, the GTE uses a combination of a turbocharged direct injection petrol engine (TSI) with an electric motor, which is supplied with energy from an externally chargeable lithium-ion battery. This battery can ensure that the Passat GTE covers a distance of up to 31 miles in all-electric mode and with zero emissions.
A contrast to the aforementioned "E-Mode", there is also a "GTE" mode. In this mode, the Passat delivers a maximum system output of 218 hp (160 kW). Furthermore, the 1.4-litre TSI engine develops a power of 156 hp (115 kW), while the electric motor produces 85 kW. The maximum torque of the entire system is 400 Nm (295 lb-ft).
Passat GTE comes as a standard equipped with a front-wheel drive and a six-gear dual clutch gearbox especially developed for the hybrid drive. It accelerates the vehicle from 0 to 100 km/h (62 mph) in less than 8.0 seconds. The top speed is 136 mph; in "E-Mode" - 80 mph. When this plug-in hybrid Volkswagen goes in production, it will include a total of nine drive versions, covering a power range from 125 hp (92 kW) to 280 hp (206 kW).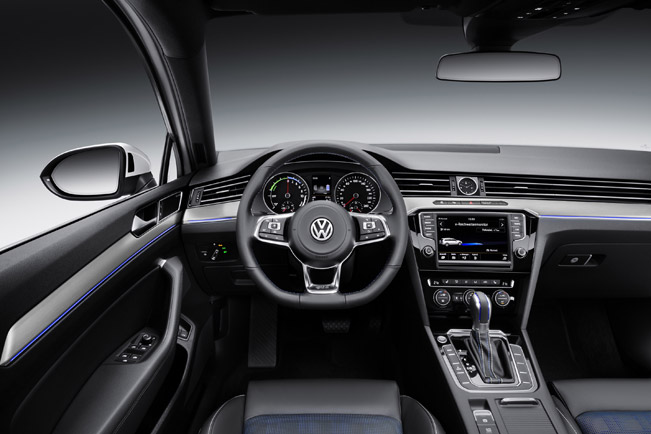 What is more, this GTE Passat will also get as standard equipment many features such as LED headlights, Driver Alert System, Automatic Post-Collision Braking system, Front Assist including City Emergency Braking function, rain sensor and ParkPilot. The car can be recognized by a specific chrome radiator grille unit with additional blue line. The front bumper was also redesigned, and now features distinctive cross panels in the lower air inlet and C-shaped LED daytime running lights. From the side one can see 17-inch "Astana" alloy wheels.
Inside, some the interior features include "Composition Media" infotainment system, innovative Active Info Display with specific displays, blue ambient lighting, leather-trimmed multifunction steering wheel with blue decorative stitching, GTE specific gear knob with blue stitching and seats covered in "Sevilla" cloth with a blue basic structure. Moreover, the interior was improved by the "Waves" design, which is an aluminium look, and "Piano Black" (high-gloss black) as well as a GTE logo in front of the gear shift gate.
The new Passat GTE will feature high resolution 6.5-inch display of the standard "Composition Media" infotainment system. As an option, the German company is offering "Discover Media" that also comprises of a 6.5-inch display, and "Discover Pro" radio-navigation systems with an 8.0-inch display.
2015 Volkswagen Passat GTE is to be launched in the second half of next year in saloon and an estate version.
Source: Volkswagen