Volkswagen Twin-Up Diesel-Electric Hybrid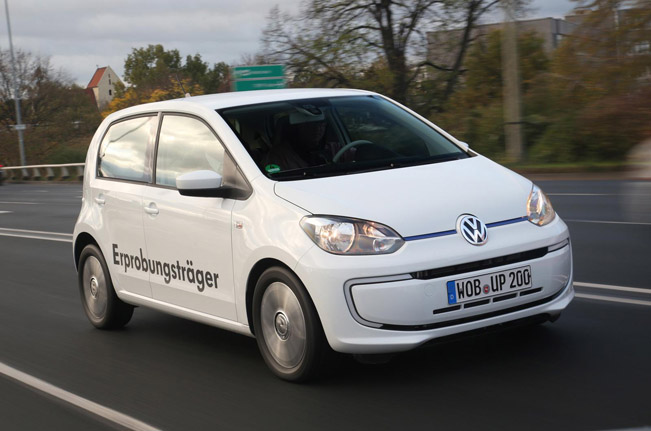 Volkswagen has announced the Twin-Up diesel-electric hybrid concept. The super-efficient small car will probably  become a production model.
The Twin-Up has two-cylinder 0.8 liter common-rail diesel engine from the XL1 – 47HP (35 kW) and 120Nm (88 lb-ft) of torque. There is also an electric motor with 47HP (35 kW) and 140Nm (103 lb-ft). The combined power is 74HP (55 kW) and 214Nm (158 lb-ft), which is sent to the front axle through a dual-clutch 7-speed gearbox. 0-100 km/h in 15.7 seconds and a top speed of 140 km/h (87 mph) – electronically limited in hybrid mode. Still, this car is not about performance, it is about low fuel consumption – 1.1 liter / 100 km (257 mpg UK or 214 mpg US) with CO2 emissions of only 27 g/km. Furthermore, it has an all-electric range of up to 50 km (31 miles).
The Volkswagen Twin-Up is 1,205 kg (2,656 lbs), which is 410 kg (904 lbs) heavier than the revolutionary XL1. It has an 8.6 kWh battery pack and 33 liters diesel fuel tank, which is 23 liters bigger than the one in the XL1.
The manufacturer has announced plans to show a more production-oriented Twin-Up concept later this month at the 2013 Tokyo Motor Show.
Source: Volkswagen