Volkswagen XL1 in London - 0.9 l per 100 km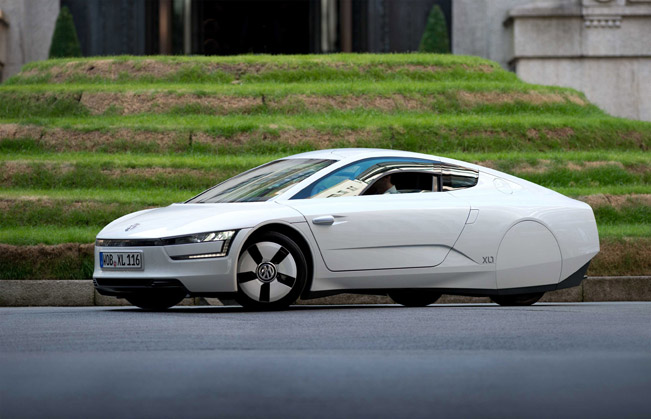 Volkswagen has published a nice video showing the futuristic XL1 cruising across London. The manufacturers says that the XL1 is world's most fuel-efficient production hybrid car capable of doing 313 mpg UK – 0.9 liters / 100 km.
While one XL1 made its way to the Goodwood Festival of Speed to take pride of place on the Volkswagen stand and make its way up the famous hill climb, another crossed the capital, heading to Buckingham Palace where it will be displayed as part of the Coronation Festival this weekend (for more details see below).
The XL1 is powered by a two-cylinder 800 cc diesel engine with an electric motor. To achieve the target fuel consumption figure the XL1 was aerodynamically optimised, adopting the classic 'tear drop' shape and utilising innovations such as removing traditional wing mirrors and replacing them with small cameras called e-Mirrors which transmit exterior images to interior displays.
The XL1 is 'handcrafted' using small series production processes.  An initial production run of 250 XL1 vehicles will be made.
Stay tuned for full specs and pricing!
Source: Volkswagen