Wide range of Accessories for 2012 Fiat Panda
Thank to all the new and wide range of Fiat Panda accessories now the customers have the unique to customize their car and personalize it even further. The new range of accessories was introduced for the first time at 2012 Geneva Motor Show. To go further into details, over 70 products were presented there, and they are being collected in three main clusters: Customization, Utility and Comfort.
Of course, every single item was designed with the initial aim to increase comfort, increase enjoyment of leisure activities and improve the quality of life on board for all customers. These exclusive accessories perfectly suit the new car and fully respect its technical, style and mechanical features. Moreover, the Customisation area includes many original products for the new Panda.
For example: three series of body stickers, 15" diamond-shape alloy rims, lengthwise roof bars, door mirror covers and alloy hub caps in four different colours (silver, beige, red and purple), steel tyre valve caps sporting the Fiat logo and carpet, velvet or rubber mats with three different graphic designs.
They are all in perfect harmony with the new 2012 Fiat Panda. In addition, Fiat Panda accessories feature new ignition key with interchangeable protective covers in three different colours (red, silver and beige) - of which one luminescent - can be replaced in an instant to customise the key to match your mood depending on the day. Next, the Utility area features accessories designed to make short and long trips pleasant and comfortable experiences. For confidently tackling city traffic the new Panda accessory range includes "Blue&Me™ TomTom © 2".
The safety ad security of the passengers are guaranteed by a full range of child seats, anti-theft systems, cargo nets and passenger compartment separation grilles for carrying animals, parking sensors and anti-theft wheel bolts. At last, the Comfort package is designed to satisfy the needs of people who want to customise their cars.
For example, the catalogue includes features for enhancing one's leisure time, like roof-fitted cargo boxes (360 or 490 litres) and handy protective boot liner. There are bars for carrying bicycles or snowboards/skis (3 or 4 pairs), kayaks and windsurfing boards in total safety, with a touch of extra style and originality.
Additionally, Fiat and Mopar have created two packs: Techno and Flex. Both offer a set of optional equipment and accessories at a convenient price. The first pack includes the new Blue&Me™ TomTom © navigator system, the useful Blue&Me™ system, a "My port" multimedia port and controls on the steering wheel. The Flex pack instead enhances the outstanding flexibility of the Panda, and includes a functional driver's seat back pocket, 5-seat version type-approval, seat folding to form a table, rear seat with 60/40 split backrest and cargo box.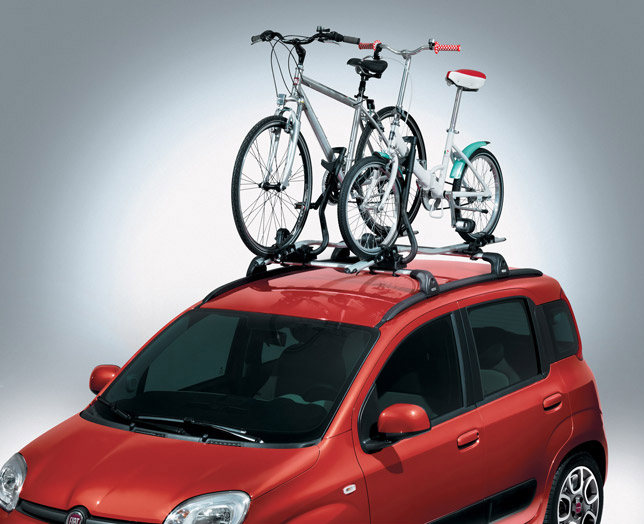 List of Fiat Panda's main accessories
Color wheel center caps: MATT Silver wheel center caps, MATT Beige wheel center caps, MATT Red wheel center caps, MATT Violet wheel center caps;
Color mirror caps: MATT Red mirror caps, MATT Red mirror caps, MATT Silver mirror caps, MATT Beige mirror caps, MATT Violet;
Color OE bars: MATT Red OE longitudinal bars, MATT Silver OE longitudinal bars, MATT Beige OE longitudinal bars, MATT Violet OE longitudinal bars;
Stickers: Squircles, Camouflage, Lettering;
Key covers: Red and Fluorescent, Silver and Fluorescent, Beige and Fluorescent;
Carpet mats: Rubber car mats with vehicle logo, Velour car mats with 3D embroidered vehicle logo, Velvet car mats with ecodome vehicle logo;
Blue&Me™ TomTom©: Blue&Me™ TomTom© (live), Blue&Me™ TomTom© (not live);
Carrying systems: Roof bars, Ski carrier (3 sets of skis), Ski carrier (2 sets of skis), Windsurf carrier, Kayak carrier, Standard steel bike carrier, Top aluminum bike carrier;
Techno Pack: Blue & Me TomTom 2 Live, Blue & Me, My port, Steering controls;
Flex Pack: Functionaility pouch, Rear seat 60/40, 5 seat homoligation, Kit comfort, Cargo box, Reclining seat.
Source: Fiat