Wimmer Rennsporttechnik Mercedes-Benz C 63 AMG with 624 horsepower
Wimmer Rennsporttechnik Mercedes-Benz C 63 AMG is an interesting project which deserves some attention. It stays under the guiding principle of AMG's handmade engineering art and luxury philosophy, and in addition is able to produce the great amount of 624 horsepower (460 kW).
However, before the tuning from Wimmer Rennsporttechnik, the Mercedes-Benz got only 487 hp (358 kW). The professionals from Wimmer achieve this enhancement of power through various means such as the upgrade of the cylinder heads, the sport cam shafts, throttle and the optimization of the intake manifolds.
Furthermore, they have added a larger fuel pump, which additionally works very efficiently. Next, onto the C 63 AMG were added also especially crafted headers from Wimmer and special sport catalysts from HJS Company, as well as sport exhaust system made from stainless steel, again by Wimmer. The wider audience can enjoy the sound of the engine thanks to the 84-mm- wide Y-pipes.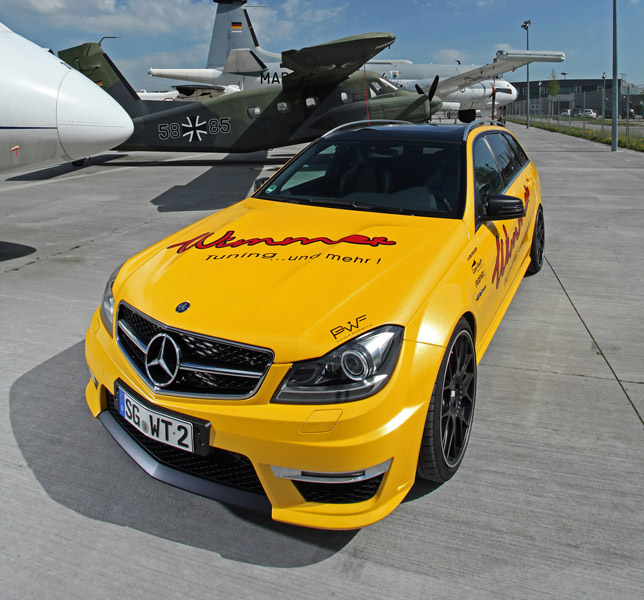 The Mercedes runs on 19 inch BBS rims fitted with Dunlop tires. A club sport suspension from KW, spacers from H & R, plus limited slip differential of Drexler Company, must also be recognized in this tuning.
The exterior color of the vehicle has been modified by the tuners from Kempener. They have covered a Mercedes with material of the film manufacturer BRUXSAFOL in shiny "electrical- yellow". The floor mats Ronsdorf of the interior stress the origin of this powercar by Wimmer logo.
Source: Wimmer Rennsporttechnik