Wimmer RS Porsche GT2 RS Generates 1020 Horsepower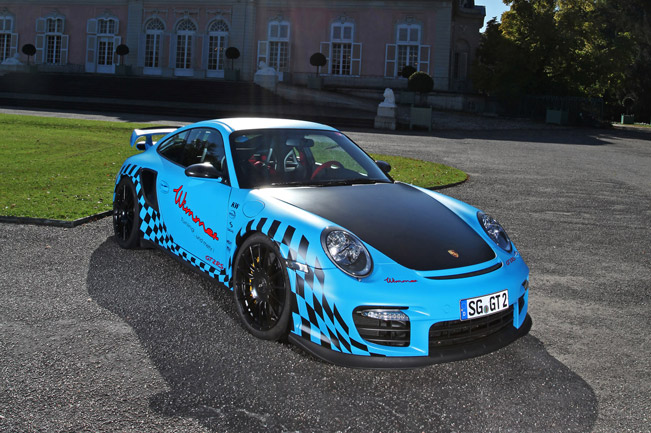 Originally the Porsche GT2 RS, launched back in the 2010, was equipped with 3.6-liter twin-turbo 6-cylinder boxer engine, which generates 500 horsepower (370 kW). However, sport car enthusiasts are rarely satisfied with this number of power.
A true example for this is the specialists from the tuning company Wimmer RS, which have made the impossible and brought 1020 hp (750 kW) to this Porsche. They have given the "underpowered" supercar significantly more propulsion than "just" the series power.
To go further into details, how they have done this is via the additional in-house tuning for the engine, the two optimized Wimmer turbochargers, the optimization of the air induction, the sports camshafts and crankshaft, the timing chains, the machined cylinder heads, pistons and connecting rods, the fuel pump unit, the two manifolds with bypass and at last the two 200 cell sport catalysts, from which the power unit gets sheer inexhaustible powers.
For the great performance also contributes the flap controlled sport exhaust system. Moreover, the custom-designed 19 inch wheels in combination with a 3-way adjustable Competition-suspension from KW, are the perfect combination which makes the acceleration faster and more exciting.
In details, for the 0 to 100 km/h sprint the Porsche now needs only 3.4 seconds. And after 8.7 seconds the 120 mph mark is passed and the speed of 180 mph is reached within unbelievable 15.5 seconds.
The V-Max is indicated with 389 km/h. And this can hardly surprise anyone, since the power number is over 1020 hp (750 kW) is reached at 7,340 rpm, and the torque of 1108 Nm (820 lb-ft) is reached at 5,680 rpm.
At last, this superior tuning is destined to have a great outlook as well. The outer dull blue skin of the car is a consequence of the work of the professionals from Cam Shaft company and the foil manufacturer Bruxsafol.
Source: Wimmer RS via Miranda Media