Porsche GT2 9ff vs Nissan GT-R AMS Alpha 12+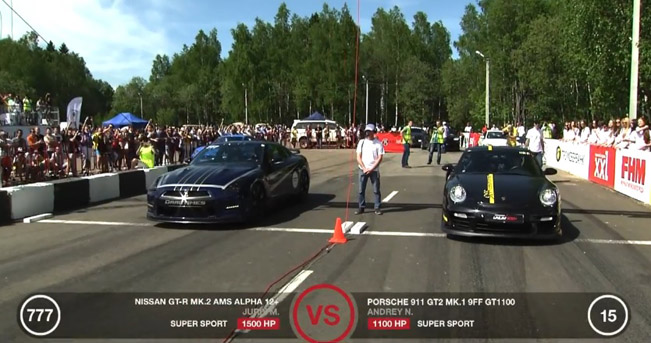 Dragtimesinfo has published an interesting battle between Porsche 911 GT2 Mk.1 9ff GT1100 with 1100HP , Nissan GT-R Mk.2 AMS Alpha 12+ with 1500HP and Nissan GT-R Mk.1 Altechno A2 with 1000HP.
In the first start, the 9ff set personal speed record of the day of 338 km/h. However, because of the massive wheel spin the Porsche crossed the 1 mile mark in 26.957 seconds, while the GT-R Alpha 12+ needed just 24.013 seconds.
In the second start, the 9ff lost again, but this time versus the GT-R Altechno A2, which finished in 25.195 seconds with a terminal speed of 323 km/h.
In the last race, the Porsche won versus the GT-R Alpha 12+, because the Nissan had problems. However, the 9ff managed to set personal absolute record on ¼ mile – 10.977 seconds with 227 km/h and personal et record of the day on 1 mile – 25.781 seconds with 336 km/h.
Source: Dragtimesinfo