World Debut of Ferrari FXX K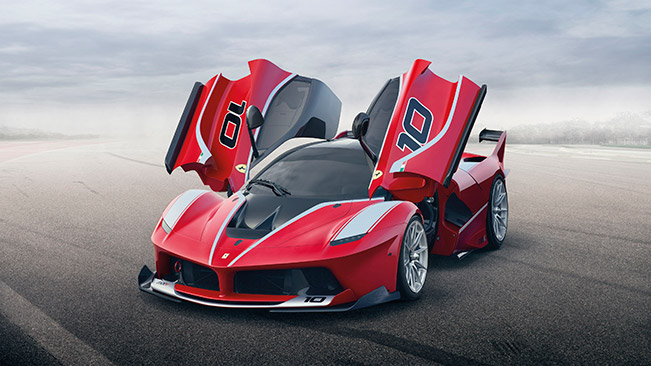 Ferrari has officially revealed the FXX K ahead of its debut in Abu Dhabi during the Finali Mondiali event. The car is formerly known as the LeFerrari XX and is based on Maranello's first hybrid machine. The K in its moniker refers to the "KERS" kinetic energy recovery system which it adopts in order to maximize its track performance.
Now to the basics. The FXX K is equipped with the basic V12-plus-electric engine just like the road-going LaFerrari. This time around, though, it generates more power. Presicely, 101bhp more power. As a result, the car shows off with a total output of 1036bhp. Thus, there is 848bhp that derives from the 6.3-litre naturally aspirated V12 engine and 187bhp from the electric motor. Combined maximum torque is estimated at 664 lb-ft.
Even though Ferrari hasn't announced any performance inormation for the LeFerrari, it is expected to dazzle with an amazing 0-62 mph sprint time of no more than three seconds. As it seems, it is going to be really fast. And furios. (Those just cant exist separately.)
The new Ferrari FXX K has attained a number of additional devices and features. At the front there is a 30 mm lower twin-profile spoiler, with vertical fins which tranmist air over the car's flanks, and propels the efficiency of the aerodynamic underbody. The verticle fin-winglet arrangements on each side of the retractable rear spoiler function as guide vanes and boost the spoilers efficiency in optimized downforce mode.
According to Ferrari, this results in 50% improvement in downforce in the low drag configuration and a 30% improvement in the more aggressive downforce configuration with a final figure of 540 kg at 200 km/h.
Finally, the dynamics of the FXX K are enhanced even more by the use of Pirelli slicks complete with sensors that monitor longitudinal, lateral and radial acceleration, as well as temperature and pressure.
Source: Ferrari