World Record: Volkswagen Passat Covers 1626 Miles on a Single Tank of Fuel
We often get figures from car makers that, from time to time beggar belief. Especially when we are talking about estimated mpg data. It goes without saying then, that nothing beats a real life test to see exactly what's what. That's exactly what record breaking duo John and Helen Taylor have done - travel 1626.1 miles on a single tank of fuel (a record breaking distance). The car of choice was a 2012, manual Volkswagen Passat TDI SE Clean Diesel.
It was a three day journey with a starting point at Houston Texas. The tank was brimmed up with a batch of ultra-low sulfur diesel and the fuel cap was then sealed by officials. And when we are talking real life, we mean real life – 120 pounds of luggage was stuffed at the back and the driving was done only during daytime hours so that the traffic could also contribute as a factor. On the third day of the journey, after 1626.1 miles, the couple reached Sterling, Virginia where the world record was confirmed – 99.5 miles better than the previous record holder (a Volkswagen Passat 1.6 BlueMotion diesel). The average consumption of the TDI Clean Diesel turned out to be 84.1 mpg.
That's pretty impressive when we take into account that the 2.0-liter engine inside it generates 140 hp and 236 pound-feet of torque. The given EPA estimated fuel economy for it stands at 43 mpg at the highway. Every single state is quite happy about the Passat's emissions as it has been fitted with a Selective Catalytic Reduction System (SCR) – some sort of which craft that makes rainbows and butterflies come out from the exhaust.
"The Passat was engineered and designed to be a comfortable yet fun to drive alternative in the midsize segment. The TDI Clean Diesel version unites driving dynamics and fuel efficiency that isn't found in the competitive set," said Rainer Michel, Vice President of Product Strategy, Volkswagen of America, Inc. "We're honored that the Taylors chose the 2012 Passat TDI as the vehicle to set this outstanding distance record. Their record shows just how economical the Passat TDI can be in the right hands."
This is not Taylor's first efficiency venture. They are in fact renown for independently researching various ways of efficient driving, holding workshops globally. Their collected data from drivers around the globe is as vast as their ambitions.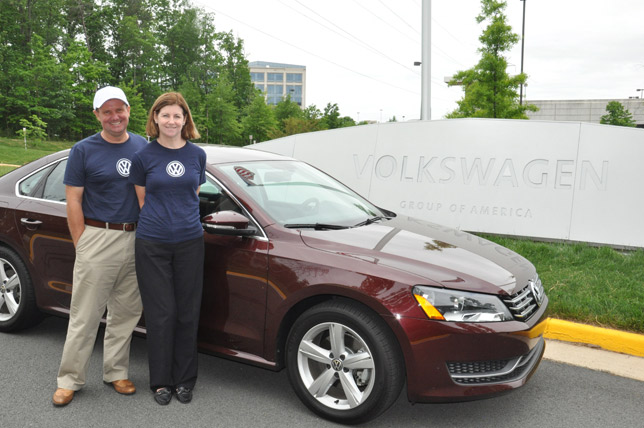 Source: Volkwsagen