1970 Chevrolet Camaro RS is Supercharging SEMA with its Crate LT4 Engine

1970 Chevrolet Camaro RS with Supercharged LT4 engine is one of the 20 concepts and production vehicles shown by Chevy at the SEMA Show. Luckily, this means that you will be hearing a lot about Chevrolet this week. This particular Camaro showcases company's growing range of vehicle accessories, performance parts, crate engines and transmissions. Precisely, the 1970 model uses Corvette Z06s crate engine and it definitely feels very comfortable with it.
The supercharged 6.2L heart of the car is very powerful, since it pumps out 650 horsepower (478 kW) and 881 Nm (650 lb-ft) of torque. These numbers show that the engine is the most powerful one released by General Motors so far. The company is offering it in dry-sump and wet-sump variants.
SEE ALSO: Chevy Unveils the Silverado Bone Collector Concept!
This particular Camaro concept utilizes wet-sump kit, along with air conditioning and front-end accessory drive kits. In addition, its L4 is mated with a T-56 Super Magnum six-speed manual transmission.
But as the power output grows, this leads to necessary changes regarding the car's chassis and suspension. They have all been upgraded with an independent front suspension with coilovers and a rack-and-pinion steering system, as well as a four-link rear suspension, also with coilovers.
Exterior Inspired by Gen Six Camaro RS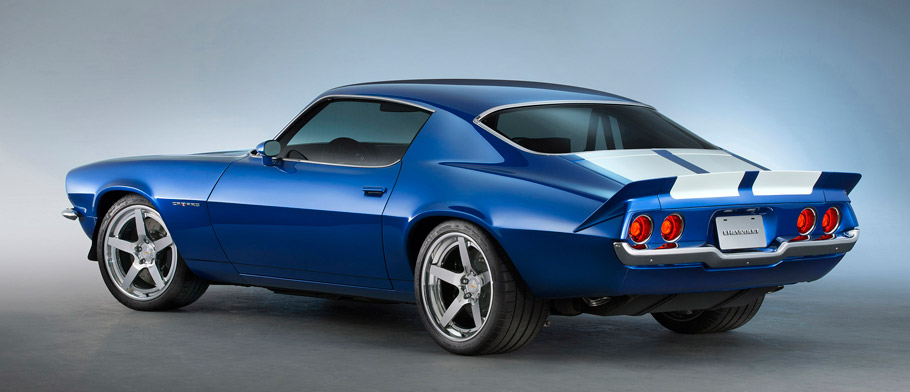 Next, Camaro RS from 1970 rides on a set of 19-inch polished aluminum wheels supported by Corvette Z06-based front and rear disc brake kits. In addition, in terms of styling, this car is inspired by the one of the latest Camaro RS, starting with the Hyper Blue Metallic exterior color.
Furthermore, the classic car also received LED headlamps and taillamps. The cabin is painted in black and features custom-trimmed seats and custom instrument cluster with new gauges that work with the powertrain's electronic systems. By the way, the instrument panel is wrapped in custom-trimmed leather. In order to provide more protection, Chevrolet added a six-point roll cage.
Want to know more about Chevrolet at SEMA? Join the social conversation at #CHEVYSEMA on social media!
Source: Chevrolet