1970 Porsche 917K
With the 917, Porsche for the first time entered the league of immensely powerful, large-capacity racing cars. The 580bhp from the twelve-cylinder 4.5-litre engine of the 917 set new standards, to the extent that even decades later, independent experts rate this Porsche as one of the most impressive sports cars of the century.
Changes in the regulations motivated Porsche to build the 917. Prototypes were allowed a maximum engine size of three-litres, and for sports cars five-litres were allowed. However, a series of at least 25 had to be built. Thus, the 917 legend was born in April 1969, 40 years ago.
The 1969 race season allowed the 917 to become fully race-proven, with the result that the car entered 1970 with its reliability assured and finely-honed aerodynamics which further improved its track behaviour. At that time, the factory did not enter the cars directly, but via its close partners, John Wyer Automotive and Porsche Salzburg, but the World Championship for long distance sports car racing proved to be a triumph for Porsche. Despite fierce competition from Ferrari, the blue and orange and red and white 917s won almost every race.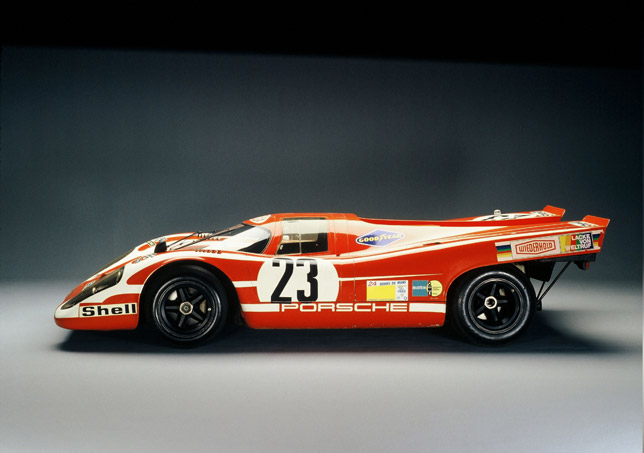 The Le Mans 24 Hours race was particularly important, as Porsche had not been able to score an overall victory so far. In 1970, seventeen 917s participated and two completed the race – in first and second places. The winners were Hans Herrmann and Richard Attwood in number 23, and the 917 also won the fuel consumption index category, demonstrating the commitment by Porsche to combining performance and efficiency, a focus maintained by the company to this day.
The winning 917 with the number 23 has always taken pride of place in the Porsche Museum collection and was given a complete overhaul by the Porsche Motorsport department in Weissach in 2000. At this year's Goodwood Festival of Speed, Richard Attwood will be once more reunited with this iconic car.
Technical Specification
Engine: Twelve-cylinder, horizontally-opposed pistons, air-cooled, two valves per cylinder, four cogwheel-driven overhead camshafts
Output: 580bhp at 8,400rpm
Displacement: 4,494cc
Dimensions: Wheelbase 2,300mm, length 4,140mm, height 920mm, weight 800kg
Performance: Top speed 340km/h (211mph)