2010 Abu Dhabi Grand Prix - Results
Sebastian Vettel is the new F1 world champion. He has 1st crossed the finish line in Abu Dhabi and won 25 points, which ensured his top position for this season.
Vettel had even more luck, when his opponent for the title - Fernando Alonso was stuck on 7th place and won just 6 points. The main reason was Vitaly Petrov in a Renault and after the finish Alonso let his emotions as he gesticulated angrily at Russian Petrov after the chequered flag.
Mark Webber finished just 8th and in the championship 3rd.
Congratulations to F1's youngest ever world champion - Sebastian Vettel.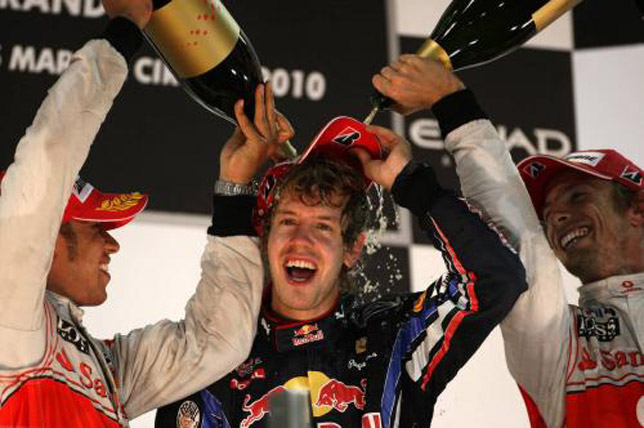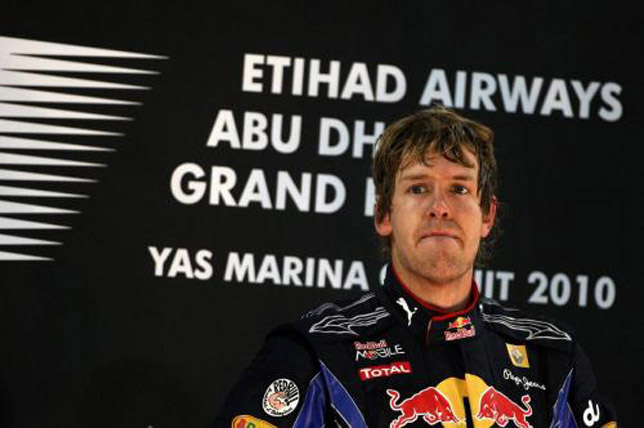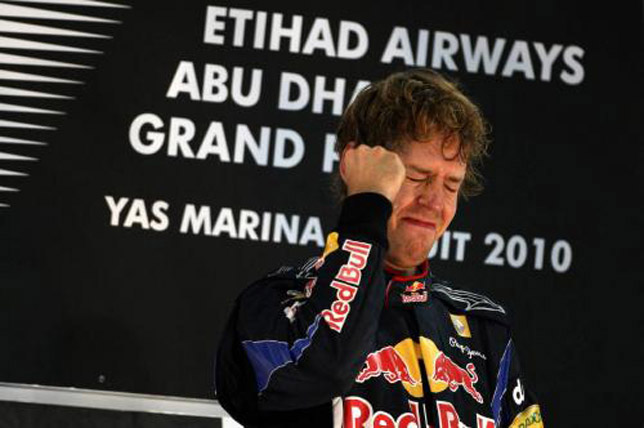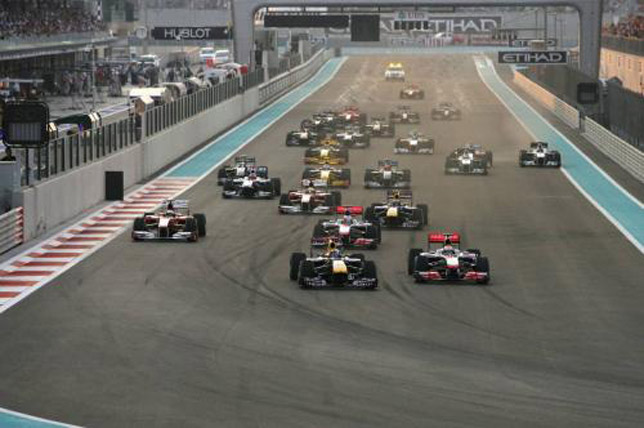 | | | | | | | | |
| --- | --- | --- | --- | --- | --- | --- | --- |
| Pos | No | Driver | Team | Laps | Time/Retired | Grid | Pts |
| 1 | 5 | Sebastian Vettel | RBR-Renault | 55 | 1:39:36.837 | 1 | 25 |
| 2 | 2 | Lewis Hamilton | McLaren-Mercedes | 55 | +10.1 secs | 2 | 18 |
| 3 | 1 | Jenson Button | McLaren-Mercedes | 55 | +11.0 secs | 4 | 15 |
| 4 | 4 | Nico Rosberg | Mercedes GP | 55 | +30.7 secs | 9 | 12 |
| 5 | 11 | Robert Kubica | Renault | 55 | +39.0 secs | 11 | 10 |
| 6 | 12 | Vitaly Petrov | Renault | 55 | +43.5 secs | 10 | 8 |
| 7 | 8 | Fernando Alonso | Ferrari | 55 | +43.7 secs | 3 | 6 |
| 8 | 6 | Mark Webber | RBR-Renault | 55 | +44.2 secs | 5 | 4 |
| 9 | 17 | Jaime Alguersuari | STR-Ferrari | 55 | +50.2 secs | 17 | 2 |
| 10 | 7 | Felipe Massa | Ferrari | 55 | +50.8 secs | 6 | 1 |
| 11 | 22 | Nick Heidfeld | BMW Sauber-Ferrari | 55 | +51.5 secs | 14 | |
| 12 | 9 | Rubens Barrichello | Williams-Cosworth | 55 | +57.6 secs | 7 | |
| 13 | 14 | Adrian Sutil | Force India-Mercedes | 55 | +58.3 secs | 13 | |
| 14 | 23 | Kamui Kobayashi | BMW Sauber-Ferrari | 55 | +59.5 secs | 12 | |
| 15 | 16 | Sebastien Buemi | STR-Ferrari | 55 | +63.1 secs | 18 | |
| 16 | 10 | Nico Hulkenberg | Williams-Cosworth | 55 | +64.7 secs | 15 | |
| 17 | 19 | Heikki Kovalainen | Lotus-Cosworth | 54 | +1 Lap | 20 | |
| 18 | 25 | Lucas di Grassi | Virgin-Cosworth | 53 | +2 Laps | 22 | |
| 19 | 21 | Bruno Senna | HRT-Cosworth | 53 | +2 Laps | 23 | |
| 20 | 20 | Christian Klien | HRT-Cosworth | 53 | +2 Laps | 24 | |
| 21 | 18 | Jarno Trulli | Lotus-Cosworth | 51 | +4 Laps | 19 | |
| Ret | 24 | Timo Glock | Virgin-Cosworth | 43 | +12 Laps | 21 | |
| Ret | 3 | Michael Schumacher | Mercedes GP | 0 | Accident | 8 | |
| Ret | 15 | Vitantonio Liuzzi | Force India-Mercedes | 0 | Accident | 16 | |
| | | | | |
| --- | --- | --- | --- | --- |
| Pos | Driver | Nationality | Team | Points |
| 1 | Sebastian Vettel | German | RBR-Renault | 256 |
| 2 | Fernando Alonso | Spanish | Ferrari | 252 |
| 3 | Mark Webber | Australian | RBR-Renault | 242 |
| 4 | Lewis Hamilton | British | McLaren-Mercedes | 240 |
| 5 | Jenson Button | British | McLaren-Mercedes | 214 |
| 6 | Felipe Massa | Brazilian | Ferrari | 144 |
| 7 | Nico Rosberg | German | Mercedes GP | 142 |
| 8 | Robert Kubica | Polish | Renault | 136 |
| 9 | Michael Schumacher | German | Mercedes GP | 72 |
| 10 | Rubens Barrichello | Brazilian | Williams-Cosworth | 47 |
| 11 | Adrian Sutil | German | Force India-Mercedes | 47 |
| 12 | Kamui Kobayashi | Japanese | BMW Sauber-Ferrari | 32 |
| 13 | Vitaly Petrov | Russian | Renault | 27 |
| 14 | Nico Hulkenberg | German | Williams-Cosworth | 22 |
| 15 | Vitantonio Liuzzi | Italian | Force India-Mercedes | 21 |
| 16 | Sebastien Buemi | Swiss | STR-Ferrari | 8 |
| 17 | Pedro de la Rosa | Spanish | BMW Sauber-Ferrari | 6 |
| 18 | Nick Heidfeld | German | BMW Sauber-Ferrari | 6 |
| 19 | Jaime Alguersuari | Spanish | STR-Ferrari | 5 |
| 20 | Heikki Kovalainen | Finnish | Lotus-Cosworth | 0 |
| 21 | Jarno Trulli | Italian | Lotus-Cosworth | 0 |
| 22 | Karun Chandhok | Indian | HRT-Cosworth | 0 |
| 23 | Bruno Senna | Brazilian | HRT-Cosworth | 0 |
| 24 | Lucas di Grassi | Brazilian | Virgin-Cosworth | 0 |
| 25 | Timo Glock | German | Virgin-Cosworth | 0 |
| 26 | Sakon Yamamoto | Japanese | HRT-Cosworth | 0 |
| 27 | Christian Klien | Austrian | HRT-Cosworth | 0 |