2010 Brazilian Grand Prix - Results
Red Bull made it, they finally managed to secure their first place in constructors world championship, after this Sunday at Interlagos.
"To do this after six seasons is great," commented team boss Christian Horner on BBC.
Mark Webber finished second in Brazil and he is 8 points behind Fernando Alonso. Remember, that there is only one race to go - Abu Dhabi finale.
Sebastian Vettel stole the first position and now he is 15 points behind the leader and Lewis Hamilton finished in 4th place, so he is 24 points behind.
It will be superbly interesting race the next weekend, so stay tuned.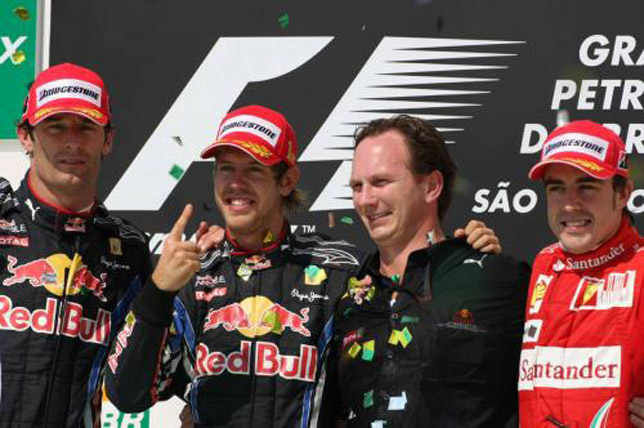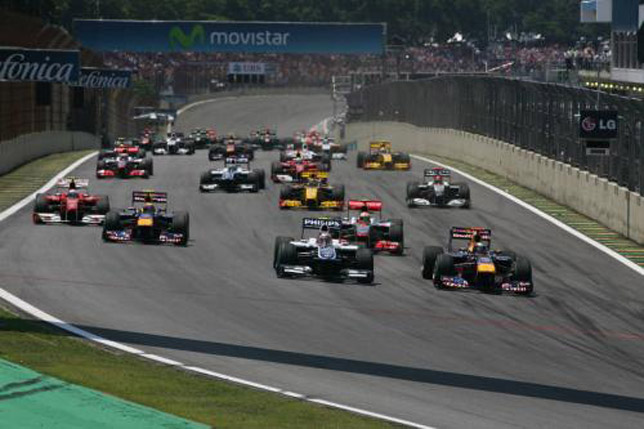 | | | | | | | | |
| --- | --- | --- | --- | --- | --- | --- | --- |
| Pos | No | Driver | Team | Laps | Time/Retired | Grid | Pts |
| 1 | 5 | Sebastian Vettel | RBR-Renault | 71 | 1:33:11.803 | 2 | 25 |
| 2 | 6 | Mark Webber | RBR-Renault | 71 | +4.2 secs | 3 | 18 |
| 3 | 8 | Fernando Alonso | Ferrari | 71 | +6.8 secs | 5 | 15 |
| 4 | 2 | Lewis Hamilton | McLaren-Mercedes | 71 | +14.6 secs | 4 | 12 |
| 5 | 1 | Jenson Button | McLaren-Mercedes | 71 | +15.5 secs | 11 | 10 |
| 6 | 4 | Nico Rosberg | Mercedes GP | 71 | +35.3 secs | 13 | 8 |
| 7 | 3 | Michael Schumacher | Mercedes GP | 71 | +43.4 secs | 8 | 6 |
| 8 | 10 | Nico Hulkenberg | Williams-Cosworth | 70 | +1 Lap | 1 | 4 |
| 9 | 11 | Robert Kubica | Renault | 70 | +1 Lap | 7 | 2 |
| 10 | 23 | Kamui Kobayashi | BMW Sauber-Ferrari | 70 | +1 Lap | 12 | 1 |
| 11 | 17 | Jaime Alguersuari | STR-Ferrari | 70 | +1 Lap | 14 | |
| 12 | 14 | Adrian Sutil | Force India-Mercedes | 70 | +1 Lap | 22 | |
| 13 | 16 | Sebastien Buemi | STR-Ferrari | 70 | +1 Lap | 19 | |
| 14 | 9 | Rubens Barrichello | Williams-Cosworth | 70 | +1 Lap | 6 | |
| 15 | 7 | Felipe Massa | Ferrari | 70 | +1 Lap | 9 | |
| 16 | 12 | Vitaly Petrov | Renault | 70 | +1 Lap | 10 | |
| 17 | 22 | Nick Heidfeld | BMW Sauber-Ferrari | 70 | +1 Lap | 15 | |
| 18 | 19 | Heikki Kovalainen | Lotus-Cosworth | 69 | +2 Lap | 20 | |
| 19 | 18 | Jarno Trulli | Lotus-Cosworth | 69 | +2 Laps | 18 | |
| 20 | 24 | Timo Glock | Virgin-Cosworth | 69 | +2 Laps | 17 | |
| 21 | 21 | Bruno Senna | HRT-Cosworth | 69 | +2 Laps | 24 | |
| 22 | 20 | Christian Klien | HRT-Cosworth | 65 | +6 Laps | 23 | |
| Ret | 25 | Lucas di Grassi | Virgin-Cosworth | 62 | +9 Laps | 21 | |
| Ret | 15 | Vitantonio Liuzzi | Force India-Mercedes | 49 | Accident | 16 | |
| | | | | |
| --- | --- | --- | --- | --- |
| Pos | Driver | Nationality | Team | Points |
| 1 | Fernando Alonso | Spanish | Ferrari | 246 |
| 2 | Mark Webber | Australian | RBR-Renault | 238 |
| 3 | Sebastian Vettel | German | RBR-Renault | 231 |
| 4 | Lewis Hamilton | British | McLaren-Mercedes | 222 |
| 5 | Jenson Button | British | McLaren-Mercedes | 199 |
| 6 | Felipe Massa | Brazilian | Ferrari | 143 |
| 7 | Nico Rosberg | German | Mercedes GP | 130 |
| 8 | Robert Kubica | Polish | Renault | 126 |
| 9 | Michael Schumacher | German | Mercedes GP | 72 |
| 10 | Rubens Barrichello | Brazilian | Williams-Cosworth | 47 |
| 11 | Adrian Sutil | German | Force India-Mercedes | 47 |
| 12 | Kamui Kobayashi | Japanese | BMW Sauber-Ferrari | 32 |
| 13 | Nico Hulkenberg | German | Williams-Cosworth | 22 |
| 14 | Vitantonio Liuzzi | Italian | Force India-Mercedes | 21 |
| 15 | Vitaly Petrov | Russian | Renault | 19 |
| 16 | Sebastien Buemi | Swiss | STR-Ferrari | 8 |
| 17 | Pedro de la Rosa | Spanish | BMW Sauber-Ferrari | 6 |
| 18 | Nick Heidfeld | German | BMW Sauber-Ferrari | 6 |
| 19 | Jaime Alguersuari | Spanish | STR-Ferrari | 3 |
| 20 | Heikki Kovalainen | Finnish | Lotus-Cosworth | 0 |
| 21 | Jarno Trulli | Italian | Lotus-Cosworth | 0 |
| 22 | Karun Chandhok | Indian | HRT-Cosworth | 0 |
| 23 | Bruno Senna | Brazilian | HRT-Cosworth | 0 |
| 24 | Lucas di Grassi | Brazilian | Virgin-Cosworth | 0 |
| 25 | Timo Glock | German | Virgin-Cosworth | 0 |
| 26 | Sakon Yamamoto | Japanese | HRT-Cosworth | 0 |
| 27 | Christian Klien | Austrian | HRT-Cosworth | 0 |
| | | |
| --- | --- | --- |
| Pos | Team | Points |
| 1 | RBR-Renault | 469 |
| 2 | McLaren-Mercedes | 421 |
| 3 | Ferrari | 389 |
| 4 | Mercedes GP | 202 |
| 5 | Renault | 145 |
| 6 | Williams-Cosworth | 69 |
| 7 | Force India-Mercedes | 68 |
| 8 | BMW Sauber-Ferrari | 44 |
| 9 | STR-Ferrari | 11 |
| 10 | Lotus-Cosworth | 0 |
| 11 | HRT-Cosworth | 0 |
| 12 | Virgin-Cosworth | 0 |