2010 Korean Grand Prix - results and comments
The Korean Grand Prix was extremely interesting. The leader Mark Webber lost his 14-point lead with a crash on the wet track and his Red Bull teammate Sebastian Vettel failed, too. He had a major problem with the engine of the Renault.
"Totally my mistake," commented Mark Webber after his crash, which also took out Nico Rosberg.
The new championship leader is Fernando Alonso, who went 11 points ahead of Webber with two races to go.
The third in the championship is Lewis Hamilton, who has finished second in Korea. He is 21 points behind.
"It's obviously not a nice moment," commented Sebastian Vettel, the pole sitter and leader until the engine failure, as the race finished in near-darkness.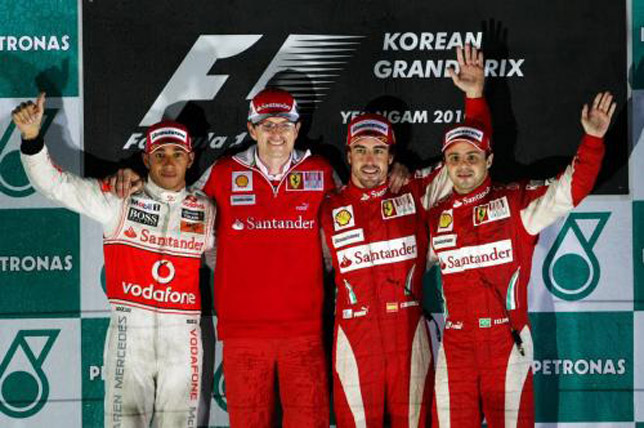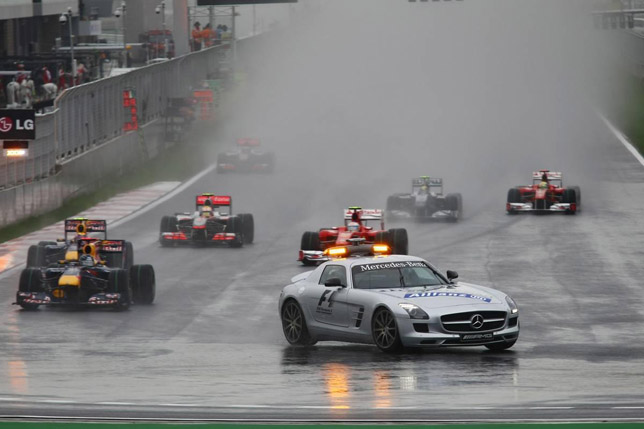 | | | | | | | | |
| --- | --- | --- | --- | --- | --- | --- | --- |
| Pos | No | Driver | Team | Laps | Time/Retired | Grid | Pts |
| 1 | 8 | Fernando Alonso | Ferrari | 55 | Winner | 3 | 25 |
| 2 | 2 | Lewis Hamilton | McLaren-Mercedes | 55 | +14.9 secs | 4 | 18 |
| 3 | 7 | Felipe Massa | Ferrari | 55 | +30.8 secs | 6 | 15 |
| 4 | 3 | Michael Schumacher | Mercedes GP | 55 | +39.6 secs | 9 | 12 |
| 5 | 11 | Robert Kubica | Renault | 55 | +47.7 secs | 8 | 10 |
| 6 | 15 | Vitantonio Liuzzi | Force India-Mercedes | 55 | +53.5 secs | 17 | 8 |
| 7 | 9 | Rubens Barrichello | Williams-Cosworth | 55 | +69.2 secs | 10 | 6 |
| 8 | 23 | Kamui Kobayashi | BMW Sauber-Ferrari | 55 | +77.8 secs | 12 | 4 |
| 9 | 22 | Nick Heidfeld | BMW Sauber-Ferrari | 55 | +80.1 secs | 13 | 2 |
| 10 | 10 | Nico Hulkenberg | Williams-Cosworth | 55 | +80.8 secs | 11 | 1 |
| 11 | 17 | Jaime Alguersuari | STR-Ferrari | 55 | +84.1 secs | 15 | |
| 12 | 1 | Jenson Button | McLaren-Mercedes | 55 | +89.9 secs | 7 | |
| 13 | 19 | Heikki Kovalainen | Lotus-Cosworth | 54 | +1 Lap | 21 | |
| 14 | 21 | Bruno Senna | HRT-Cosworth | 53 | +2 Laps | 24 | |
| 15 | 20 | Sakon Yamamoto | HRT-Cosworth | 53 | +2 Laps | 23 | |
| Ret | 14 | Adrian Sutil | Force India-Mercedes | 46 | Accident | 14 | |
| Ret | 5 | Sebastian Vettel | RBR-Renault | 45 | Engine | 1 | |
| Ret | 12 | Vitaly Petrov | Renault | 39 | Accident | 20 | |
| Ret | 24 | Timo Glock | Virgin-Cosworth | 31 | Accident | 19 | |
| Ret | 16 | Sebastien Buemi | STR-Ferrari | 30 | Accident | 16 | |
| Ret | 25 | Lucas di Grassi | Virgin-Cosworth | 25 | Accident | 22 | |
| Ret | 18 | Jarno Trulli | Lotus-Cosworth | 25 | +30 Laps | 18 | |
| Ret | 6 | Mark Webber | RBR-Renault | 18 | Accident | 2 | |
| Ret | 4 | Nico Rosberg | Mercedes GP | 18 | Accident | 5 | |
| | | | | |
| --- | --- | --- | --- | --- |
| Pos | Driver | Nationality | Team | Points |
| 1 | Fernando Alonso | Spanish | Ferrari | 231 |
| 2 | Mark Webber | Australian | RBR-Renault | 220 |
| 3 | Lewis Hamilton | British | McLaren-Mercedes | 210 |
| 4 | Sebastian Vettel | German | RBR-Renault | 206 |
| 5 | Jenson Button | British | McLaren-Mercedes | 189 |
| 6 | Felipe Massa | Brazilian | Ferrari | 143 |
| 7 | Robert Kubica | Polish | Renault | 124 |
| 8 | Nico Rosberg | German | Mercedes GP | 122 |
| 9 | Michael Schumacher | German | Mercedes GP | 66 |
| 10 | Rubens Barrichello | Brazilian | Williams-Cosworth | 47 |
| 11 | Adrian Sutil | German | Force India-Mercedes | 47 |
| 12 | Kamui Kobayashi | Japanese | BMW Sauber-Ferrari | 31 |
| 13 | Vitantonio Liuzzi | Italian | Force India-Mercedes | 21 |
| 14 | Vitaly Petrov | Russian | Renault | 19 |
| 15 | Nico Hulkenberg | German | Williams-Cosworth | 18 |
| 16 | Sebastien Buemi | Swiss | STR-Ferrari | 8 |
| 17 | Pedro de la Rosa | Spanish | BMW Sauber-Ferrari | 6 |
| 18 | Nick Heidfeld | German | BMW Sauber-Ferrari | 6 |
| 19 | Jaime Alguersuari | Spanish | STR-Ferrari | 3 |
| 20 | Heikki Kovalainen | Finnish | Lotus-Cosworth | 0 |
| 21 | Jarno Trulli | Italian | Lotus-Cosworth | 0 |
| 22 | Karun Chandhok | Indian | HRT-Cosworth | 0 |
| 23 | Bruno Senna | Brazilian | HRT-Cosworth | 0 |
| 24 | Lucas di Grassi | Brazilian | Virgin-Cosworth | 0 |
| 25 | Timo Glock | German | Virgin-Cosworth | 0 |
| 26 | Sakon Yamamoto | Japanese | HRT-Cosworth | 0 |