2010 Singapore Grand Prix - "... and the winner is Fernando Alonso"
Fernando Alonso won Singapore Grand Prix on Sunday night. His teammate - Sebastian Vettel went on second place and third is Mark Webber, who extended his lead to 11 points.
Mark Webber's closest challenger is now Fernando Alonso, who has won the last two races from pole position.
Hamilton's MP4-25 came off worse, and he came close to writing off his title chances after retiring at mid-distance. "Let's just hope myself or Jenson can do it," said the 2008 world champion, who remains five points ahead of teammate Jenson Button's sister car. "20 points is massive and with four races to go that is a big gap," said Hamilton.
Jenson Button wont surrender: "There is everything to play for."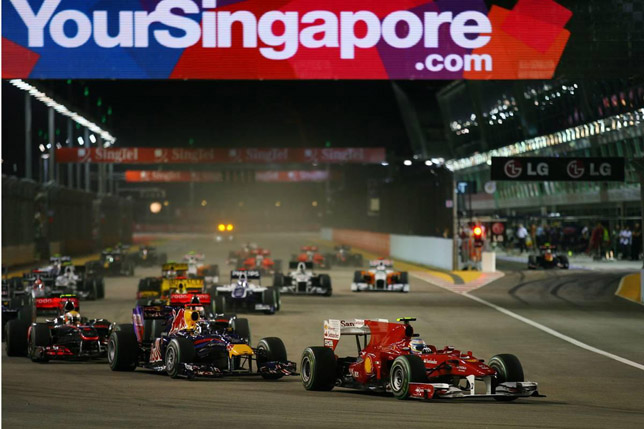 | | | | | | | | |
| --- | --- | --- | --- | --- | --- | --- | --- |
| Pos | No | Driver | Team | Laps | Time/Retired | Grid | Pts |
| 1 | 8 | Fernando Alonso | Ferrari | 61 | 1:57:53.579 | 1 | 25 |
| 2 | 5 | Sebastian Vettel | RBR-Renault | 61 | +0.2 secs | 2 | 18 |
| 3 | 6 | Mark Webber | RBR-Renault | 61 | +29.1 secs | 5 | 15 |
| 4 | 1 | Jenson Button | McLaren-Mercedes | 61 | +30.3 secs | 4 | 12 |
| 5 | 4 | Nico Rosberg | Mercedes GP | 61 | +49.3 secs | 7 | 10 |
| 6 | 9 | Rubens Barrichello | Williams-Cosworth | 61 | +56.1 secs | 6 | 8 |
| 7 | 11 | Robert Kubica | Renault | 61 | +86.5 secs | 8 | 6 |
| 8 | 10 | Nico Hulkenberg | Williams-Cosworth | 61 | +112.8 secs | 17 | 4 |
| 9 | 7 | Felipe Massa | Ferrari | 61 | +113.3 secs | 24 | 2 |
| 10 | 14 | Adrian Sutil | Force India-Mercedes | 61 | +122.4 secs | 15 | 1 |
| 11 | 12 | Vitaly Petrov | Renault | 60 | +1 Lap | 12 | |
| 12 | 17 | Jaime Alguersuari | STR-Ferrari | 60 | +1 Lap | 11 | |
| 13 | 3 | Michael Schumacher | Mercedes GP | 60 | +1 Lap | 9 | |
| 14 | 16 | Sebastien Buemi | STR-Ferrari | 60 | +1 Lap | 13 | |
| 15 | 25 | Lucas di Grassi | Virgin-Cosworth | 59 | +2 Laps | 20 | |
| 16 | 19 | Heikki Kovalainen | Lotus-Cosworth | 58 | +3 Laps | 19 | |
| Ret | 24 | Timo Glock | Virgin-Cosworth | 49 | Hydraulics | 18 | |
| Ret | 22 | Nick Heidfeld | BMW Sauber-Ferrari | 36 | Accident | 14 | |
| Ret | 2 | Lewis Hamilton | McLaren-Mercedes | 35 | Accident | 3 | |
| Ret | 20 | Christian Klien | HRT-Cosworth | 31 | Hydraulics | 22 | |
| Ret | 23 | Kamui Kobayashi | BMW Sauber-Ferrari | 30 | Accident | 10 | |
| Ret | 21 | Bruno Senna | HRT-Cosworth | 29 | Accident | 23 | |
| Ret | 18 | Jarno Trulli | Lotus-Cosworth | 27 | Hydraulics | 21 | |
| Ret | 15 | Vitantonio Liuzzi | Force India-Mercedes | 1 | Accident damage | 16 | |