2012 Ferrari F12berlineta - full specs
The new 2012 Ferrari F12berlinetta is exhibited at the 82nd Geneva International Motor Show. The sports car is presented alongside the Ferrari California Handling Speciale.
The F12berlinetta is displayed on the stand in two new colours, Rosso Berlinetta and Aluminium. It is the most powerful and high-performance road-going Ferrari ever.
It is powered by a 6.3 liter 65° V12 engine with 740PS (544 kW) and 690Nm (509 lb-ft). 0-100 km/h – 3.1 seconds and 0-200 km/h in 8.5 seconds. The top speed is over 340 km/h. You can check the full specs below.
The car is pretty small and its engine, dashboard and seats are lower in the chassis to achieve low center of gravity. A new suspension and gearbox layout helps reduce the car's rear volume. The result is fantastic with a weight distribution 46:54 (front-rear axle).
The whole car weighs just 1525 kg and has maximised its performance efficiency with torsional rigidity boosted by 20%.
The aerodynamics is specialty of Ferrari. It is been discreetly integrated in the F12berlinetta's styling - the Aero Bridge which, as a first, uses the bonnet to generate downforce, and Active Brake Cooling, a system that opens guide vanes to the brake cooling ducts only at high operating temperatures.
The result of these interventions is that the F12berlinetta has the highest overall aerodynamic efficiency of any Ferrari ever built (a value of 1.2, double that of the 599 GTB Fiorano) with downforce of 123 kg at 200 km/h and a Cd of just 0.299.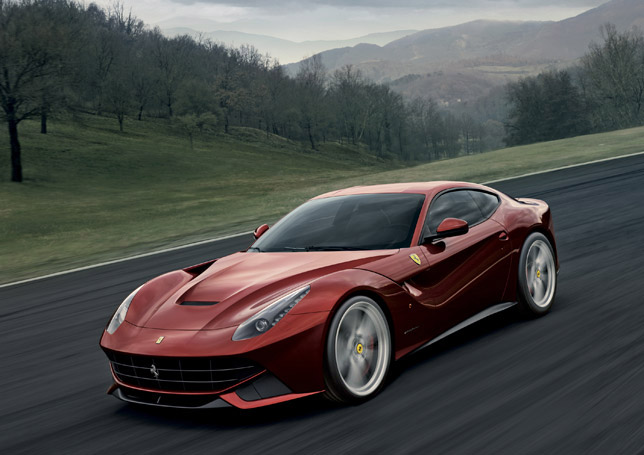 At the rear, the car is also very pretty - a modern, functional reinterpretation of the Kamm tail which seamlessly integrates the two vertical fences of the rear diffuser. It has original T-shape  and also incorporates two full-LED circular tail-lights and the clearly F1-inspired rear fog light.
The interior is also completely new. It features the balance of advanced technology – in the form of the Human-Machine Interface which places all controls within easy reach of the driver – and sophisticated, handcrafted detailing, both of which are intrinsic to Ferrari's DNA.
On the dashboard you'll see new carbon-fibre and light alloy air-vents inspired by the aeronautical sector. There is also an optional passenger display for the passenger-side dash.
The two other recent additions to the Prancing Horse stable will also be present on the stand: the FF in Bianco Italia livery and the 458 Spider in Giallo Tristrato. The display is completed by a 458 Italia in a sporty two-tone Rosso Corsa and Nero Daytona livery.
F12berlinetta technical specifications
Engine
| | |
| --- | --- |
| Type | 65° V12 |
| Bore/stroke | 94 x 75.2 mm |
| Total capacity | 6262 cc |
| Compression ratio | 13.5:1 |
| Maximum power | 545 kW (740 CV) at 8250 rpm |
| Specific power output | 118 CV/l |
| Maximum torque | 690 Nm at 6000 rpm |
| Maximum revs | 8700 rpm |
Dimensions and weight
| | |
| --- | --- |
| Length | 4618 mm |
| Width | 1942 mm |
| Height | 1273 mm |
| Wheelbase | 2720 mm |
| Front track | 1665 mm |
| Rear track | 1618 mm |
| Dry weight* | 1525 kg |
| Kerb weight* | 1630 kg |
| Weight distribution | 46% front, 54% rear |
| Weight/power ratio | 2.1 kg/CV |
| Fuel tank | 92 l |
Wheels and tyres
| | |
| --- | --- |
| Front | 255/35 ZR 20 9.5J |
| Rear | 315/35 ZR 20 11.5J |
| Front (winter tyres) | 255/35 ZR 20 9.5J |
| Rear (winter tyres) | 305/35 ZR 20 11.5J |
Carbon-ceramic brakes (CCM3)
| | |
| --- | --- |
| Front | 398 x 223 x 38 mm |
| Rear | 360 x 233 x 32 mm |
Electronic controls
| | |
| --- | --- |
| ESC | Stability control |
| High-performance ABS/EBD | High-performance anti-lock braking system with electronic brake balance |
| F1-Trac | F1 traction control |
| E-Diff 3 | Third generation electronic differential |
| SCM-E | Magnetorheological damping control with twin solenoids |
Gearbox
F1 dual-clutch 7-speed
Performance
| | |
| --- | --- |
| Top speed | over 340 km/h |
| 0-100 km/h | 3.1 sec |
| 0-200 km/h | 8.5 sec |
Consumption and Emissions (ECE + EUDC combined cycle)
| | |
| --- | --- |
| Consumption** | 15l/100 km |
| CO2 emissions** | 350 g/km |
*With lightweight options
**ECE+EUDC with HELE system