2012 Fiat 500C
Fiat has introduced the new 2012 500C (Cabrio) at the 2011 New York International Auto Show (NAIAS). The vehicle is based on the US version 500 Coupe and features a roof-mounted spoiler and a power-retractable soft top that can be lowered at speeds up to 60 mph (97 km/h).
"Perfectly timed with the warm weather and excitement of spring, the new 2012 Fiat 500 Cabrio expands our product lineup while paying homage to the brand's rich heritage of open-air cabrios that deliver style, value and driving enjoyment," said Laura Soave, Head of FIAT Brand North America.
"The new Fiat 500c has been intelligently tailored for our market - now with an added dose of sunshine and panoramic views at the push of a button.", she added.
2012 Fiat 500C US is powered by a 1.4 liter MultiAir engine with 102PS (75 kW) and 133Nm (98 lb-ft) of torque. The engine is available either with 5-speed manual or an optional 6-speed automatic gearbox. The all-new 6-speed automatic transmission has "Sport" mode, which enables quicker gear changes, a unique throttle map for improved engine responsiveness and allows each gear to be held for longer periods near the redline.
The interior boasts air conditioning (AC), power windows and locks, a leather-upholstered steering wheel and Bluetooth/USB connectivity. The TomTom Navigation with BLUE&ME Handsfree Communication system has an innovative 4.3" (10.9 cm) screen on top of the new 2012 Fiat 500c's instrument panel.
500C is a small city car, so it has just 153 liters of luggage compartment, but it can be expanded to 663 liters with the rear seats folded down.
2012 Fiat 500C will hit the US market this spring with a price tag of $19 500.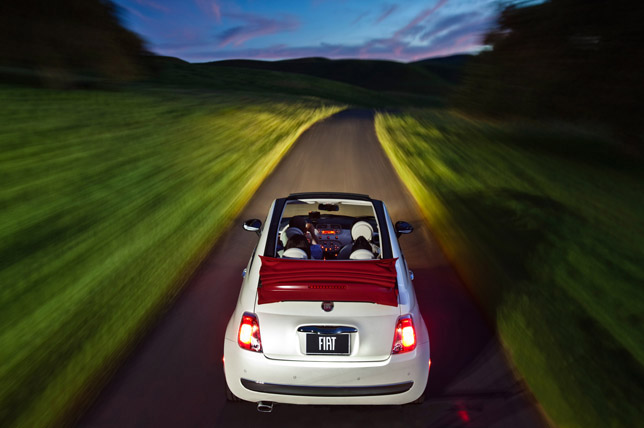 Source: Fiat