2012 Ford Fiesta ECOnetic
New Fiestas have started rolling out from Ford Europe's production line just in time to save the world from the petrol-price situation. Well, it's not that the Fiestas are new but rather what's inside them. Ford call it the ECOnetic Technology.
And how eco exactly is the new batch? 3.3l/100km (86.5mpg) on the EU cycle if you ask Ford. We are talking serious penny saving here – CO2 emissions stand at just 87g/km.
With figures like this, one might suspect the involvement of some ghastly plug in hybrid gizmos but that's not the case here:
"Fiesta is already hugely successful across Europe and the ECOnetic Technology model takes its fuel efficiency and low-CO2 offering to another level," said Stephen Odell, CEO and chairman, Ford of Europe. "Customers can be assured these significant gains have been achieved without compromising the great driving quality for which Ford is famous."
Evidently, you get a 95PS 1.6-litre Duratorq TDCi diesel that provides 205Nm of torque. The frugality comes form some pretty clever, yet rather standard features - Auto-Start-Stop, Smart Regenerative Charging, Eco Mode and a light that tells you when's the best time to shift gears. The engine and gearbox have also been fine-tuned for fuel-friendly driving. Throw in some low-rolling resistance tires, wheel deflectors, a general lower stance and you're done – the most economical Fiesta ever made.
The ECOnetic Technology is at the core of the company's plan to make Europe greener. By the end of 2012, half of Ford's fleet is expected to carry that very same tech.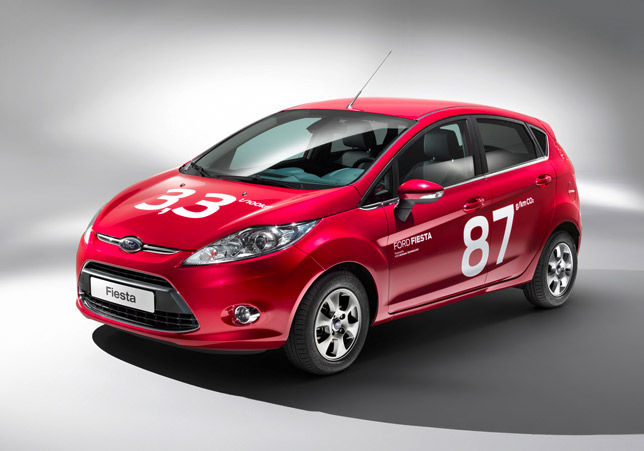 Source: Ford