All-nеw Ford Fiesta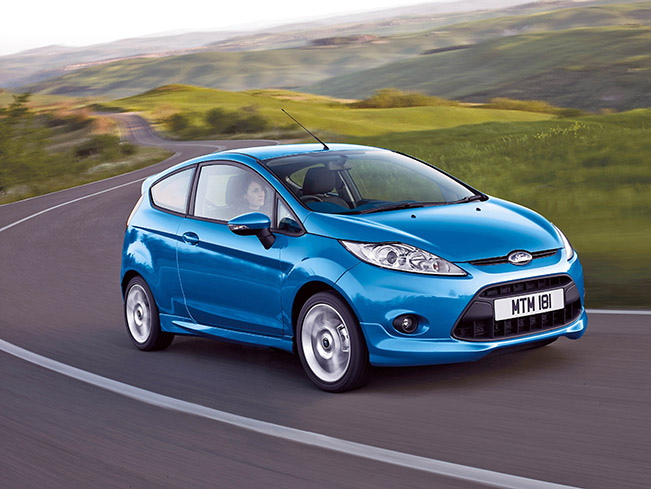 Ford Fiesta is not just the most dramatic and distinctive Fiesta ever, it also marks a significant landmark in Ford's history as the first Fiesta to be developed for customers around the world and as the template for the company's future generations of global vehicles.
Since the very first Fiesta was launched in 1976, over 12 million have been sold, with over 400,000 customers in 2007 (103,000 in the UK alone) proving the enduring popularity of the model's style, efficiency and value for money.
The Fiesta is set to extend these values, while appealing to a generation of small car buyers with its mix of kinetic design and latest big car technology. Three- and five-door Fiestas will begin rolling off production lines in Europe in summer 2008, with regionally-tailored models on sale in Asia, South Africa, Australia and the Americas by 2010.
Developed for Customers Globally
The Fiesta is the first product of Ford's Global Product Development System (GPDS) and has been designed and developed to meet the differing needs of customers as diverse as Western and Eastern Europe, North America, China, Australia and South Africa.
Extensive research by Ford in these regions provided the basis for the GPDS process, which will dictate the future of Ford product development. Fiesta is also the first product of Ford Motor Company CEO, Alan Mulally's 'One Ford' vision of a single, global company designing and building cars for a single, global customer base, not divided by regional or national borders.
"It's an incredibly exciting project," says Marin Burela. " Fiesta is a landmark moment for Ford. It's our most significant global vehicle project since the Model T and heralds the future for Ford product development."
Designed for a New Generation
Fiesta is the latest interpretation of Ford's kinetic design philosophy, exuding presence and individuality in a way that will appeal to a generation of buyers.
Building on the exciting momentum of the Verve Concept and latest-generation production models like the Mondeo and Focus, Fiesta brings the modern and dynamic Ford of Europe family look to the small-car segment.
It wears the distinctive, bold Ford 'face' including the signature lower grille and large, centred Ford oval badge that characterises both the Verve Concept and other modern Ford vehicles. Details such as chrome and brightwork accents, sleek, wraparound headlamps, bold, pronounced wheel arch lips and a strong bodyside beltline create a dynamic look, even when stationary, while a distinctive rear view is formed by a sweeping roofline that finishes in a small spoiler, with dramatic, honeycomb tail lamps.
This impact continues on the inside, with courageous use of dynamic lines, full surfaces and bold graphics, with an ambience ranging from sporty to sophisticated, created by the careful use of colours and materials in different contrasts Zetec S incorporates snowboard and street fashion designs and Zetec and Titanium feature high contrast dark gloss surfaces and high-tech metallic accents.
Executive Director of Design, Martin Smith comments: "This is the most complete, expressive and exciting Fiesta Ford has ever produced, inside and out. To me, it is a car that evokes an instant emotional response – 'I want one' – before you even get near it."
Commitment to Driving Excellence
Buying a Fiesta has always meant owning a great car to drive and Fiesta is set to extend that reputation even further, with key changes and an  'Zetec S' model in the range.
Standing on virtually the same footprint, but 40 kilogrammes lighter than its predecessor, Fiesta delivers a 'light-yet-solid' handling precision, enhanced by the first use of an Electric Power Assist Steering system in a European Ford.
An Fiesta Zetec S model will be available at launch, with a 120 PS 1.6-litre Duratec Ti-VCT petrol engine bringing performance to the heart of the Fiesta range
At the same time, a level of driving refinement echoes Fiesta's visual sophistication and is set to raise the standard for small cars for road, powertrain and wind noise isolation.
Ford's commitment to driving quality will feature in Fiestas, whether built in Cologne, Germany, Valencia, Spain, or Nanjing, China, but with each tuned to suit regional driving conditions and customer preferences, under Ford's global engineering approach.
"We wanted to make sure that driving quality remains at the heart of Fiesta – we had to ensure that the driving experience delivered on the promise made by its dynamic kinetic design", says Dieter Schwarz, Vehicle Engineering Manager for global Fiesta development. "I am confident we have fulfilled that promise."
Stronger, Safer, Lighter
Under Fiestas' stylish exterior is a robust body structure, crafted from high-strength steels, to protect occupants in the event of a collision.
More than 55 per cent of the body structure is high-strength steel, making Fiesta approximately 10 per cent stiffer torsionally than its predecessor and providing an exceptionally rigid safety cell for all occupants.
Supporting this is Fiestas' Intelligent Protection System, offering up to seven airbags, including the first use of a driver's knee-airbag in a small Ford car.
This intense focus on safety extends to those outside the car, with an array of pedestrian protection features, from the shape and structure of Fiestas' front bumper, bonnet and windscreen, to small details such as the shape of its headlamps and wiper blades.
"Fiesta is a clear example that making a safe car doesn't mean making a large car, or a heavy car. There is no need to compromise between safety and good design or driving character", says Bernd Liesenfelder, Body Engineering Manager for Ford of Europe.
Big Car Features and Clear Series Choice
Fiesta brings an array of 'big car' premium features to the small car segment, which customers will notice even before they turn the key for the first time.
Fiestas' striking centre console features a mobile phone-inspired entertainment system that is styled very differently to traditional automotive switchgear, to provide a completely intuitive interface.
Keyless entry, combined with a 'Ford Power' start button, adds to the Fiesta premium experience, with other 'surprise and delight' options available including automatic, projector headlamps, automatic windscreen wipers, Ford's sophisticated Human Machine Interface with large 89 mm (3.5 inch) screen and cruise control.
The driving position is given a 'cockpit' feel, with improved position and adjustment to both the driver's seat and steering wheel, while passengers receive more personal and luggage space overall than the previous Fiesta, despite the stylish, sweeping exterior profile. Stowage space abounds from a boot capable of swallowing 295 litres, to ingenious storage areas throughout the cabin, including charging points for mobile phones and MP3 players.
While Fiesta has been designed and engineered to meet a wide range of customer requirements, a clear series choice makes selecting the right model a simple task, with options from feisty to frugal, ultra-modern to traditional and a comprehensive list of standard features at all levels.
A simple six-series range provides maximum choice from the affordable and well-equipped Studio and the popular Style and Style Plus, or the modern, techno style of Zetec, Zetec S and Titanium.
A high level of equipment provides items such as power door mirrors as standard across the range. Completing the premium feel are features on Zetec and Titanium, such as the Aesthetic Lighting Pack, which bathes the centre console, gearshift area and passenger side dashboard area in a soft red glow.
"You immediately feel the quality of a bigger car that will be at the core of the Fiesta ownership experience. When we consider all the comfort and convenience features in the Fiesta range, we think of it not as our small car, but our smallest large car", says Giovanni De Pasca, Driving Environment and Occupant Package Manager for Ford of Europe.
New, Revised and Enhanced Powertrains
Fiesta combines newly-developed, revised and enhanced powertrains with its overall weight reduction to deliver better performance, fuel economy and reduced CO2 emissions.
Fiesta's engine range comprises four 16-valve Duratec petrol and two Duratorq TDCi diesel engine choices, refined to deliver a potential annual saving of over 11,000 tonnes of CO2 across Europe, versus the previous Fiesta.
A key development is the Fiesta ECOnetic, offering the impressive torque of the 1.6-litre Ford Duratorq TDCi engine with target CO2 emissions of just 99 grams per kilometre (g/km), achieved through careful engine calibration, lowered suspension and aerodynamic improvements and a no-maintenance, coated Diesel Particulate Filter (c-DPF). The sub-100g Fiesta ECOnetic joins the sub-140 g/km Ford Mondeo and sub-120 g/km Ford Focus ECOnetic models as Ford achieves its commitment to deliver a range of ultra-low CO2 models at the heart of its product portfolio.
Other Duratorq TDCi engines also benefit from refinements to their state-of-the-art common rail injection systems to deliver enhanced fuel economy, lower CO2 emissions and improved performance.
Driving enthusiasts are not forgotten, thanks to an, 120PS, 1.6-litre Duratec Ti-VCT petrol engine, available in the Fiesta Zetec S and Titanium models. Despite its feisty character and 20 extra horsepower, the Duratec Ti-VCT is even more fuel efficient than the 100 PS, 1.6-litre engine in the previous Fiesta. The Fiesta Zetec S can accelerate from zero to 0-62 mph in 9.9 seconds, while still achieving a combined fuel economy of 47.9 mpg and CO2 emissions of 139 g/km.
Three other 16-valve Duratec petrol engines are offered for Fiesta, in 1.25- and 1.4-litres and outputs from 60 PS to 96 PS, with an automatic transmission option available on the Duratec 1.4-litre. An added feature on Fiesta is Stall Prevention, designed to assist in low speed manoeuvres by altering the engine's ignition profile to increase the amount of available torque and tuned for each individual powertrain.
Overall, Fiesta achieves a 22 per cent improvement in 0-62 mph acceleration and 14 per cent better in-gear acceleration in passing manoeuvres, versus its predecessor, thanks to its reduced weight and improved powertrain calibration.
"Thanks to its mix of careful calibration and latest powertrain technology, Fiesta is a tailored driving experience, carefully and precisely tuned to respond to all drivers and driving styles," says Joerg Beyer, Chief Carline Engineer for Fiesta.
Low Cost of Ownership
It is not just in its contemporary styling and technologies that Fiesta will be attractive to a discerning and demanding generation of customers – extensive thought and effort has ensured it still stands for value for money and reliability.
Helping owners minimise running costs was key, with fuel economy at the top of the list. Fiesta boasts increased efficiency across the range, with owners of the 1.4-litre Duratorq TDCi saving approximately a tankful of fuel a year – 45 litres over 9,300 miles – through efficiency improvements alone.
Insurance premiums and repair costs are kept low by an intelligent approach to manufacturing. Bake-hardened steel on front wings offers better resistance to low-speed bumps and scrapes, while headlamps and tail lamps are positioned high, away from potential impacts and specially shaped 'crash cans' are designed as sacrificial parts, collapsing predictably in an impact to prevent more extensive damage and higher repair costs.
Durability has been assessed at each stage in its development, with a total of 2.2 million miles of on-road testing and over 300,000 test operations on doors, bonnet and tailgate in real world environmental conditions.
Fiesta is manufactured with sophisticated techniques more commonly found in big-car production, all part of delivering higher quality than ever for customers across the world.
"Fiesta proves how you can make a small car affordable and reliable, without compromising style, quality or features", concludes Joerg Beyer. "That's the key to making Fiesta truly desirable."
32 Years of Success
For the past 32 years, Ford Fiesta has provided practicality and driving pleasure to millions of customers across Europe. From its origins in 1976, as the product of a mission to build a European small car with modern features and a respectable price tag, the Fiesta name became ingrained in European culture and is now known across a variety of markets in Asia and South America. Fiesta is a brand that has attracted a loyal and dedicated following.
Fiesta has always been at the forefront of Ford's commitment to driving quality and innovative technology. In 1983, the Mk II Fiesta was one of the most economical cars in the world and the only vehicle of its size to offer diesel power. In 1989 Fiesta introduced anti-lock braking to the small car market and in 1994 a driver's airbag came as standard.
Accolades have abounded for the car during its lifetime, from rallying and motorsport success to prestigious titles such as 'Car of the Year 1989', 'Best Small Car in the World', 'Smartest Small Car', and 'Best City Car'.
"Welcome to Ford Fiesta.
This vehicle is very special to us in Ford of Europe and to our customers. Over the past 32 years, Fiesta has consistently been at the top of the list of Europe's best-selling cars. Over 12 million Fiestas have found homes with customers over that time and the Fiesta name continues to carry an overwhelmingly positive image in all its markets, standing for style, efficiency, driving quality and value for money. Our model is set to continue this success story and carry Fiesta forward to a generation of car buyers.
But this completely model marks something of a departure for Ford of Europe. In contrast to previous generations of Fiesta, this car has been conceived and developed by the European arm of Ford's global product development team to meet the demands and expectations of our customers around the world.
It is also the blueprint for future Ford global product development, bringing together Europe, the Americas and Asia where it will be tailored for each region and go on sale progressively between now and 2010.
I believe this is the most dramatic Fiesta since the very first model and it is the most complete and expressive interpretation yet of our kinetic design philosophy, echoing both inside and out the major elements of the exciting Verve Concept vehicles that inspired such a positive reaction around the world.
Of course, you would expect a Ford to be great to drive and our engineers have worked hard to ensure that Fiesta will deliver excellent driving quality. This is one of our core vehicle attributes, and one we have developed and applied consistently throughout the Ford of Europe range.
One of the development team's greatest achievements is that it has been able to make the Fiesta stronger, safer and more comfortable, yet lighter and more fuel efficient than the car it replaces. An exceptionally rigid body structure means a robust crash protection, even before you include up to seven airbags available as part of Fiesta's Intelligent Protection System.
Increased fuel efficiency and lower emissions are two qualities that our small car customers are looking for on a daily basis and Fiesta will not disappoint. Chief amongst a range of efficiency improvements is the extension of our acclaimed Ford ECOnetic ultra-low CO2 range, with a 1.6-litre ECOnetic Duratorq TDCi offering CO2 emissions of less than 100g/km, while each and every engine in the range has been revised and enhanced for greater fuel efficiency and lower emissions.
We're also introducing an 1.6-litre Ti-VCT engine and a Zetec S model for driving enthusiasts, while a host of comfort and convenience features you would normally expect to find on our much larger vehicles combine to make Fiesta truly a compelling choice. We're immensely proud of the Ford Fiesta, as the latest addition to Ford's increasingly successful line-up of models for Europe, and as the template for future generations of vehicles developed from the outset for our customers around the world." John Fleming, President and CEO, Ford of Europe July 2008
"Everything about the Ford Fiesta is new from the styling, materials and technologies to the core development and manufacturing processes that bring it to life. It represents our future, in more ways than one." Marin Burela, Executive Director of Small Cars, Ford of Europe