2012 Ford Focus ST-R Race Car Price - $98 995
Here is a nice offer – 2012 Ford Focus for $98 995. Is it impossible to spend all that money to tune a 2012 Ford Focus ST? Actually, the answer is yes, you can. If you check the full specifications below, you'll get the idea, why the new Ford Focus ST-R Race Car is so expensive.
The vehicle is specially developed to comply with FIA regulations and it will take place at the Grand-Am ST, World Challenge TC and Canadian Touring Car Series.
The Focus ST-R is currently available for order and deliveries are scheduled to begin late next year.
There is no performance data, but the 2.0 liter turbocharged EcoBoost petrol engine will deliver a serious amount of power. The factory power is 250PS (184 kW) and 360Nm (265 lb-ft) of torque. The engine is mated to a 6-speed manual gearbox.
Ford Focus ST-R features a FIA-compliant roll cage, an LSD (limited slip differential), stripped interior with one Recaro front seat, racing steering wheel, racing instrument panel, start console and 18" BBS light alloy wheels fitted with Hoosier racing tires.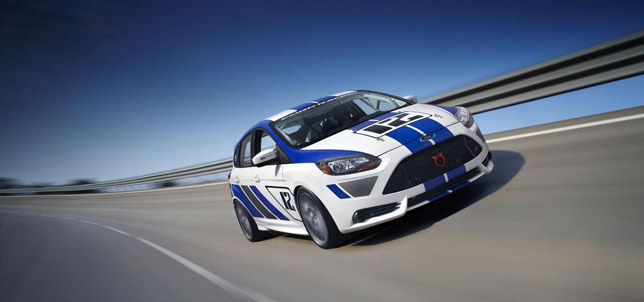 2012 Ford Focus ST-R Race Car
Powertrain
Ford Racing custom exhaust
Ford Racing engine calibration
Ford Racing high capacity radiator
Ford Racing clutch
Ford Racing oil to air oil cooler
Remote oil filter
6-speed manual transmission with Ford Racing limited-slip differential
Chassis
Seam-welded steel unibody with integrated FIA certified safety cage.
Structural perofrmance: over 20,000 lb.-ft/degree (torsional)
Front Suspension
AST performance coilover adjustable dampers
Adjustable camber plates
Ford Racing upgraded sway bar with adjustable end links
Upgraded bushings
Rear Suspension
AST performance adjustable dampers
Control-blade multilink rear suspension
Ford Racing upgraded sway bars with adjustable end links
Upgraded bushings
Brakes
Front brakes 320 mm with 2-piece rotors and race pads
Production rear brakes with race pads
Ford ABS with unique Ford Racing calibration
Wheels & Tires
18" BBS CF 1 piece cast alloy wheel (Anthracite)
Hoosier 225/40-18 R6 race tires
Fuel System
ATL 18 gallon fuel cell with custom single dry break system
Exterior
2012 Focus ST body kit
Brake cooling ducts
Hood pins
Interior
Ford Racing lightweight wiring harnesses
Recaro Pro Racer HANS racing Seat
AIM MXL Pista GPS based data system
Ford Racing short throw shifter
Ford Racing fire suppression system
Ford Racing 6-point safety harness
Ford Racing driver safety nets
Ford Racing steering wheel with quick release
Custom carbon fiber center panel with switches
Source: Ford via Car & Driver