2012 MINI Cooper Hardtop B-Spec Racer
A new MINI Cooper B-Spec race car will take place in the 2012 race season in USA. B-Spec vehicles are production-based cars that are equalized on power and weight to make the racing as competitive as possible and all four of the major racing sanctioning bodies will host B-Spec races in 2012.
"B-Spec racing is a great fit for MINI because the car is developed with racing heritage in mind and the races are run with vehicles very similar to those already sitting in the driveway," said Jim McDowell, Vice President - MINI USA.
"Getting involved with B-Spec racing offers a fun and competitive race environment without requiring MINI drivers to make a large financial investment to make their car a serious competitor.", he added.
The race car is built by MINI of Charleston and features minor upgrades - a coilover suspension, Carbotech brake system and 15" light alloy wheels fiited with Hoosier racing tires.
The engine is not extremely powerful, but it brings good performance. Despite that performance specs are not released, the factory version accelerates from 0 to 60 mph in 8.4 seconds and a top speed of 203 km/h (126 mph). The power unit is 1.6 liter four-cylinder petrol with 123PS (90 kW) and 154Nm (114 lb-ft) of torque.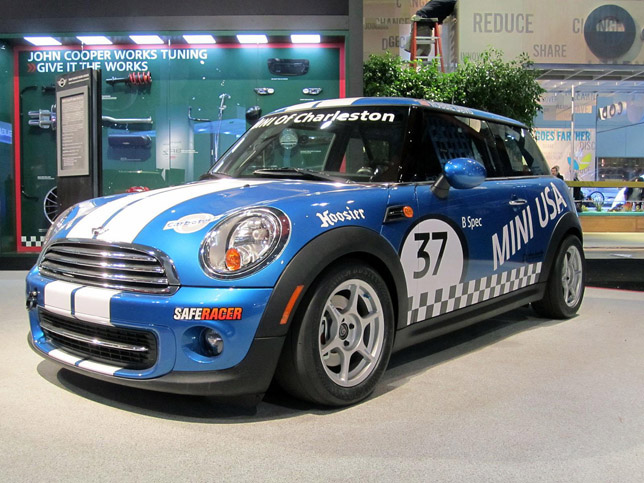 2012 MINI Cooper Hardtop B-Spec Racer:
HP: 121 @ 6,000, factory rated
TQ: 114 @ 4,250, factory rated
Steering: Electric power-assisted rack and pinion, 14.1:1 ratio
Weight: 2,535 pounds, 60.4%/39.6% F/R, factory rated
Length / Wheelbase / Height: 146.6"/ 97.1" / 55.4"
Suspension: KW V1 Coilover Struts and Shocks/ Vorshlag front camber plates
Brakes: Standard MINI Brake system with Carbotech Brake Pads and Way Motorworks Stainless Steel Braided hoses.
Safety Equipment: Kirk Racing Roll Cage with Kirkey Intermediate Road Racing Seat and Schroth Hybrid III Harnesses, Cage Nets and Window Net.
Wheel / Tire: 15 x 7 Kosei K1 aluminum alloy / Hoosier SM6 205-50-15
Performance-enhancing electronics standard on all MINIs:
•    Dynamic Stability Control (DSC) •    Four-wheel disc Anti-Lock Brakes (ABS) •    Cornering Brake Control (CBC) •    Brake Force Distribution (BFD)
Source: MINI USA