2012 Paris Motor Show: Jaguar F-Type – A Two-Seater Convertible Sports car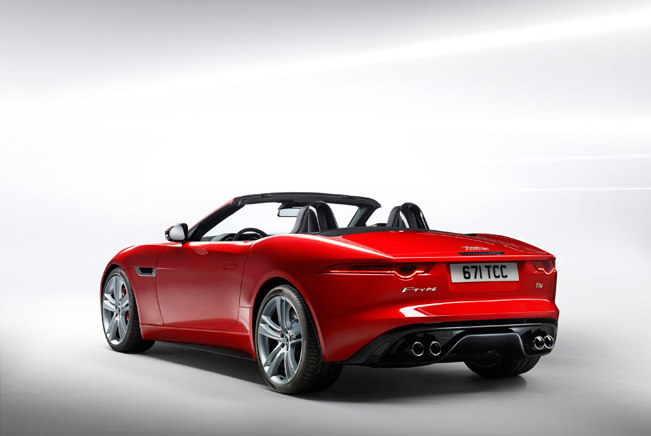 Jaguar has officially announced the all-new 2013 F-TYPE at an exclusive event in the gardens of the Musée Rodin Museum in Paris. The two-seater, convertible sports car represents a return to the company's heartland, focusing on performance, agility and driver involvement.
"Jaguar is a founder member of the sports car segment with a rich sporting bloodline stretching over 75 years, and in the F-TYPE we've reignited that flame. The F-TYPE isn't designed to be like anyone else's sports car. It's a Jaguar sports car – ultra-precise, powerful, sensual and, most of all, it feels alive.", commented Adrian Hallmark, Global Brand Director, Jaguar
The F-TYPE features all-aluminium double wishbone front and rear suspension and a quick-ratio steering rack for ultimate responsiveness. The aluminium architecture has been optimised to provide the stiffest possible underpinnings for the suspension with rigidity gains of more than 30 per cent in key areas compared to any other Jaguar application
There will be three models at launch - F-TYPE, F-TYPE S and F-TYPE V8 S.
The engine range includes a new 3.0 liter V6, which is available in two variant 340HP (250 kW) and 380HP (280 kW). The 340HP version accelerates to 100 km/h in 5.3 seconds and has a top speed of 260 km/h (161 mph) electronically limited. The 380HP model is extremely fast – 4.9 seconds to 100 km/h and 275 km/h (171 mph).
Jaguar's highly acclaimed 5.0-litre V8 boasts 495HP (364 kW) and 625Nm (463 lb-ft) of torque. 0-100 km/h in 4.3 seconds and a top speed of 300 km/h (186 mph) – electronically limited.
An active exhaust system, which is standard on the S and V8 S models, adds another dimension of driver-engagement. Valves in the exhaust system open under load from 3000rpm which allows the exhaust note to build to a thrilling crescendo at the redline.
The F-TYPE has a set of eight closely-spaced, sporting ratios in its Quickshift transmission, giving greater driver control. The V6-powered S model also includes a Dynamic Launch feature, which optimises acceleration from rest.
The F-TYPE will be available OTR for £58,500, the F-TYPE S for £67,500 and the F-TYPE V8 S for £79,950.
Source: Jaguar