2012 Porsche Boxster Price - £37 589
Porsche has revealed the price list for the new 2012 Boxster , which starts at "just" £37 589 and the price goes all the way up to £45 384 for the top-of-range S model.
The new Boxster has completely different design, an all-new lightweight body, new flat-six engines with direct petrol injection, a completely revised chassis. All this promises a good ride, but something is missing…
The 2012 Boxster also has lower curb weight, a longer wheelbase, widened track and larger wheels, which means superb handling and up to 15% greater fuel efficiency.
The engine range includes a new 2.7 liter with 265PS (195 kW) and a 3.4 liter flat-six powering Boxster S with 315PS (232 kW). Both models feature a manual 6-speed gearbox as standard, with the 7-speed dual-clutch Porsche Doppelkupplungsgetriebe (PDK) available as an option. Fuel consumption for the Porsche Boxster with PDK is 36.7mpg, and 35.3mpg for the Boxster S. The performance is amazing – 0 to 100 km/h in 5.7 seconds and 5.0 seconds flat for the S model.
To enhance the driving dynamics further, the Sport Chrono Package option is offered on the Boxster, featuring Dynamic Transmission Mounts for the first time. Also new in the Boxster is the option of Porsche Torque Vectoring (PTV) with a mechanical rear limited slip differential.
The standard equipment includes an Alcantara interior, 18" alloy wheels, Auto stop/start and Sports mode, remote control hood operation, audio CD with 7-inch colour touch-screen control, a universal audio interface offering MP3 connectivity and a 3-year warranty.
The Boxster S adds 19" alloy wheels, partial leather interior and Bi-Xenon headlights.
On paper everything is just perfect, but the new style is not typical for Porsche, so many of the fans will not be so happy. Will the technology beat the spirit?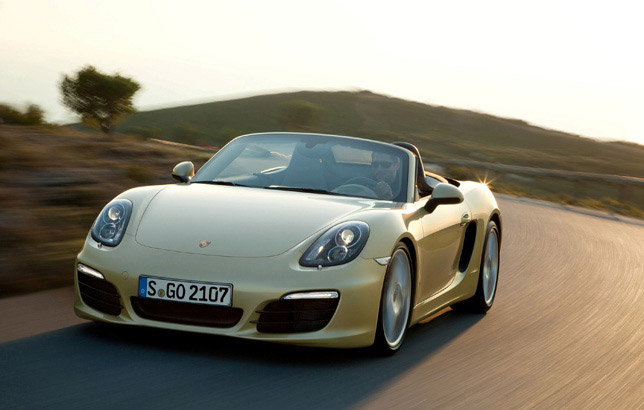 Source: Porsche