2012 Seat Ibiza by JE Design
JE Design has introduced their tuning program for the new 2012 Seat Ibiza – the 6 J model. The hot hatchback is now even sportier and the tuning specialists will emphasize the vehicle's Spanish genes with a wide range of accessories.
The exterior package includes of a front spoiler, headlamp covers, side skirts, a carbon-effect rear apron attachment and roof edge spoiler. All parts are made from high-quality ABS and fit perfectly. The total price of the aerodynamic package is €1238. Available as an optional extra is a centrally placed trapezoid tailpipe priced at €399.
The stance is improved by installing a set of suspension-lowering springs putting the ride 35 mm closer to the ground - €149. If you prefer, there is a coil-over suspension, which can lower the car up to 50-60mm.
The ride rolls 7J x 17" Multispoke alloy wheels finished in shadow silver or matt black with a polished lip. The set is €1809 and €1920, respectively. There is a bigger variant of 7.5J x 18" wheels set with 215/35 R18 tires also in the Multispoke design. The shadow silver variant is €2380 and the matt black with a polished lip €2460.
Last, but not least are the performance modifications. For the 1.2 liter TSI boosted to 140HP (103 kW) and 230Nm cutting the acceleration to 100 km/h in 0.7 seconds. The 1.6 liter TDI is now has 125HP (92 kW) and 295Nm of torque. The prices are €1399 and €1099, respectively. All prices include value added tax at 19%.
The sports accessories for the new Seat Ibiza are available now from JE DESIGN or any Seat partner.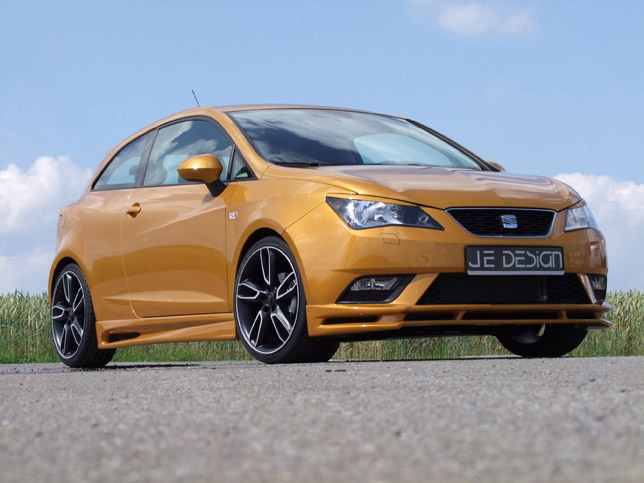 Source: Je Design