2013 Chevrolet Camaro ZL1 Convertible
2013 Chevrolet Camaro ZL1 Convertible will be exhibited at this year's Los Angeles Auto Show, next month. When it goes on sale in late 2012, it will deliver more performance and technology than many exotic cars and ultra-luxury convertibles.
"The Camaro ZL1 convertible will be one of the most powerful and most capable, convertibles available at any price," said Al Oppenheiser, Camaro chief engineer.
"This is a car that is guaranteed to put a smile on your face every time you drop the top - or hit the gas.", he added.
ZL1 Convertible is powered by a supercharged 6.2-liter V8 engine with 588PS (432 kW) and 754Nm (556 lb-ft) of torque. This is an improvement of just 11PS and 9Nm over ZL1 Coupe.
Four strategic reinforcements enhance the already-stiff body structure to quell the cowl and steering wheel shake common in convertibles. They include:
A tower-to-tower brace under the hood
A transmission support reinforcement brace
Front "X" brace and stiffer cradle as well as rear underbody "V" braces.
The suspension of the ZL1 convertible uses the third-generation of Magnetic Ride. New, twin-wire/dual-coil dampers at all four corners enable faster response, with damping levels now adjusted up to 1 000 times per second - about one adjustment per inch of vehicle travel at 60 mph - making the system exceptionally responsive to changing driving and road conditions.
The Camaro ZL1 convertible will also offer Performance Traction Management as standard equipment, which is exclusive to General Motors. First introduced on the Corvette ZR1, it is an advanced system that integrates magnetic ride control, launch control, traction control and electronic stability control, to enhance both launch-acceleration performance and corning.
In one word, 2013 Chevrolet Camaro ZL1 Convertible is simply amazing.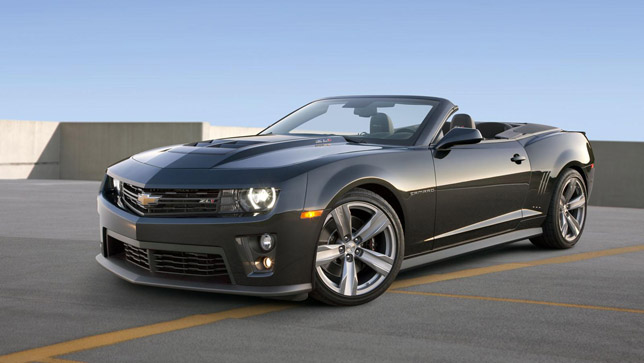 Source: Chevrolet