2013 Dodge Ram Superman Power Wagon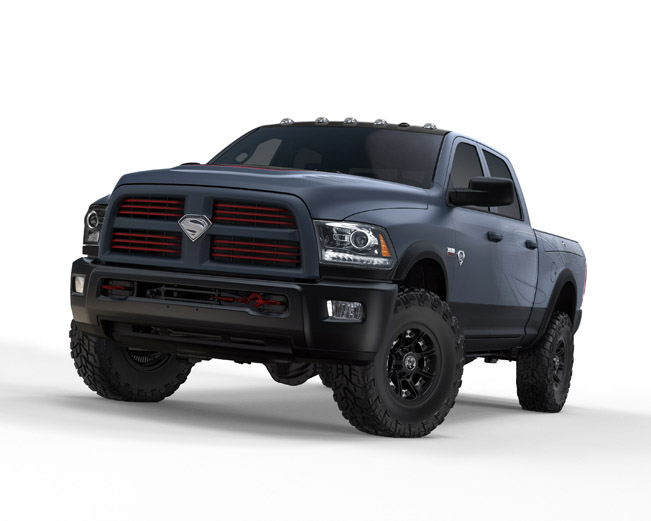 Dodge has announced a new Ram Superman Power Wagon, which is prepared with the cooperation of Warner Bros.
The Ram interior and exterior design team created a special edition, one-of-a-kind "Man of Steel" Power Wagon truck with special "Man of Steel"-inspired design cues, colors and branding. The truck will make its debut June 10 in New York City at the world premiere of the movie. It will then be on display at special events throughout the summer and fall, including the National Finals Rodeo and State Fair of Texas, before being auctioned off for charity at a later date.
The Dark Ceramic Gray truck features a high-gloss black roof with Anodized Red grille accents, created from a durable 14-coat paint process. It has forged-aluminum, satin black 17" off-road wheels, Superman logos on the front grille and rear tailgate and a custom, one-off vehicle wrap inspired by the crest and texture of Superman's suit. The wrap highlights a tone-on-tone interpretation of the iconic Superman S-shield, and helps unify themes found on the interior and exterior of the truck.
Interior includes custom mesh seat inserts reminiscent of Superman's own suit with integrated Superman logos on the seats and console; Pewter leather seats; and Anodized Red paint trim accents on the doors, steering column, radio cluster and seats. There also is "Man of Steel" logo badging on the glove box and a "Man of Steel" screen backdrop and start-up screen on the radio cluster.
Source: Dodge