2013 Dodge Viper SRT - US Price $97,395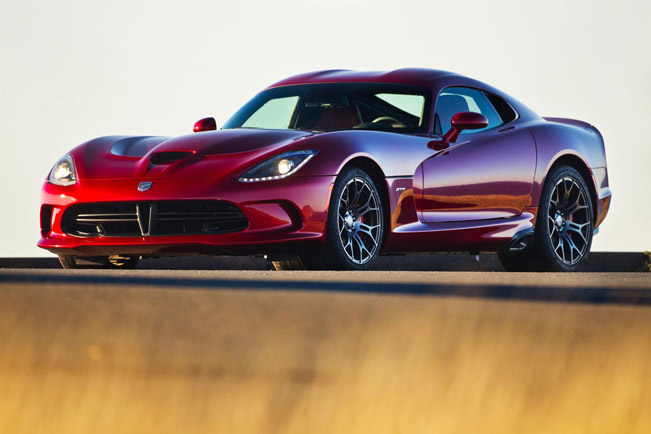 Dodge has announced the new 2013 Viper SRT. The fifth generation of iconic American-built supercar returns as Street and Racing Technology (SRT) brand's flagship performance machine with more power and performance, superior craftsmanship, new technologies and creature comforts. There will be two new models: SRT Viper and SRT Viper GTS.
The car is completely different compared to the previous models. It boasts fantastic exterior look combined with enormous powerful engine and awesome handling.
"The Street and Racing Technology brand team is extremely proud that our hand-built-in-Detroit, flagship supercar is back and ready to take on the performance-car world," commented Ralph Gilles, President and CEO – Street and Racing Technology Brand and Motorsports, Chrysler Group LLC.
"Beyond being the flagship for the new SRT brand, the launch of the 2013 Viper proves that we simply would not let the performance icon of the Chrysler Group die. Willed to live on by a very special group of performance enthusiasts inside the company and across Viper Nation, this SRT team under our new leadership was challenged to not just continue the legendary Viper, but to create the fifth generation of our world-class supercar that would showcase the very best we have to offer.", he added.
The 2013 Viper SRT is powered by an 8.4 liter naturally aspirated V10 engine producing 640HP (477 kW) and 814Nm (600 lb-ft) of torque. It is connected to a 6-speed manual gearbox. The curb weight of the vehicle is just 1,521 kg (3,354 lbs), so 0-100 km/h takes 3 seconds and a top speed of 331 km/h (206 mph). The ¼ mile is covered in 11.5 seconds. If that's not impressive enough, the model can go from 0-160-0 km/h in less than 12 seconds.
Manufacturer's suggested retail price for the 2013 SRT Viper model is $97,395 (excluding $1,995 destination), while MSRP for the 2013 SRT Viper GTS model is $120,395 (excluding destination).
Source: Dodge