2013 Dodge Viper will take part in 2012 American Le Mans Series
It has been less than one week since Chrysler Group announced the release of the all new two models of 2013 Dodge Viper SRT and Viper SRT GTS.
Both models were developed by Street and Racing Technology (SRT®) and can offer nothing less than superb performance and excitement!
In fact this is the fifth generation of the iconic two-seat, American-built supercar. And now we can see its evolution, which can be effortlessly seen in the high-quality work of the designer and engineers, as well as through all of the new technologies and ergonomic improvements included in it.
Now, Dodge is to announce even more exciting news around this emblematic vehicle. All fans of model will be delighted to hear that Chrysler Group also announced that SRT Viper Racing team will return to the American Le Mans Series (ALMS) in 2012.
As many might recall, racing has been an important part of the history of the iconic Viper. It has won a lot of wins on the track, but also this led to the improvement and continuation of the development of street cars. And as a matter of fact 2013 Dodge Viper SRT is a result of this evolution.
The new team is preparing for the big event and since the launch if the 2013 Dodge Viper SRT GTS-R model they do disclose their overall excitement. However, the introduction of the SRT GTS-R would not be announced until the racing. And in addition, what has also been revealed is that Chrysler Group is planning to have two identical Viper SRT GTS-Rs competing in the production-based GT class in the American Le Mans Series this year.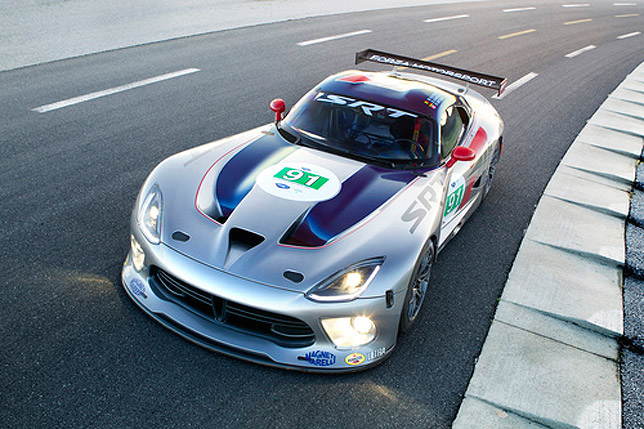 Source: Chrysler