Two Dodge Viper SRT GTS-Rs Get New Livery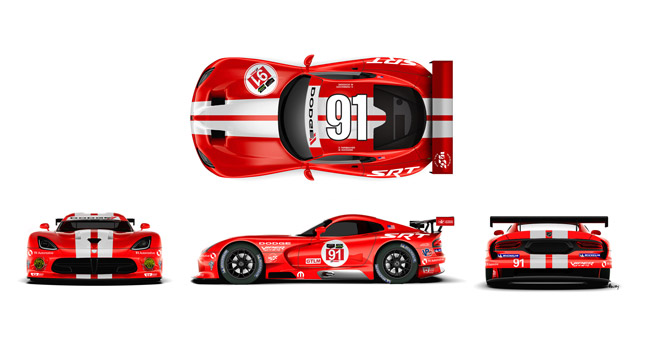 Dodge Viper SRT GTS-R with new livery is going to debut at Sahlen's Six Hours of the Glen race weekend, between 27th and 29th of June, at the New York's Watkins Glen International circuit. With the new skin Street and Racing Technology is honoring the Dodge Viper's racing heritage. SRT Motorsports Viper entries carry the numbers No. 91 and No. 93, and are colored in Viper Red and Race White. The classic colors are the same worn by the Viper entries that competed at the Rolex 24 At Daytona in 2000, the 24 Hours of Le Mans in 2000, and the American Le Mans Series championships in 1999 and 2000.
The new livery also comes to celebrate the brand's 100th anniversary. For this purpose, the team is carrying a special 100th anniversary logo on both IMSA TUDOR Vipers. The cars not only bring back the classic look but also connect the Viper racing program to its spirited racing heritage.
For the design of the new race cars, SRT Motorsports has partnered with Riley Technologies. Two identical Viper GTS-R will compete in the production-based GT Le Mans class in the TUDOR United SportsCar Championship.
Dodge Viper SRT GTS-R will first race on the track on 27th of June for the initial practice for the Sahlen's Six Hours of the Glen race weekend. In addition, the third endurance race of the 2014 IMSA TUDOR season, which is part of the North American Endurance Cup, will take place at Watkins Glen International on 29th of June 29.
Source: Dodge