2013 Ford Shelby GT500
Ford has introduced another special Mustang at the LA Auto Show. 2013 Shelby GT500 -  raises the bar high on performance with the introduction of the new 2013 model that goes on sale next year delivering 650 horsepower and a top speed of more than 200 mph.
The road-legal Shelby GT500 is powered by a 5.8 liter supercharged V8 with 659PS (485 kW) and 813Nm (600 lb-ft) of torque. The gearbox is 6-speed manual, which sends the power to a torsen LSD on the rear wheels. Nothing is said about the acceleration, but the top speed is 322 km/h (200 mph).
The 2013 Shelby GT500 offers two new sets of forged-aluminum wheels including a unique wheel for cars with the optional packages. The 19" front and 20" rear wheels are wrapped in Goodyear Eagle F1 SuperCar G: 2 tires on all vehicle configurations.
The new Shelby GT500 can be ordered with Performance Package includes Bilstein electronically-adjusted dampers, while the Track Package features an external engine-oil cooler, rear differential cooler and transmission cooler to prevent over-heating on the track.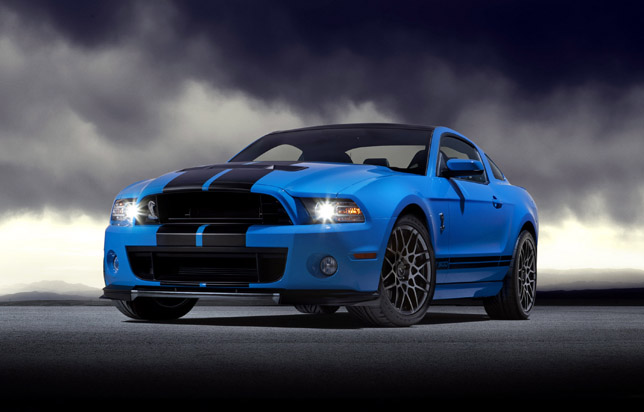 Other keys for improved traction management include:
Torsen limited-slip differential:When customers order the optional Performance Package, they will get a Torsen limited-slip differential that helps the rear suspension deliver maximum torque and traction better and longer under track conditions
Launch control: A new launch control system lets drivers set the desired launch rpm depending on tire temperature, street surface or other conditions. Unique to SVT's launch control is that it is integrated with both the engine control and traction control
Brembo braking system: A new Brembo brake system offers drivers enhanced stopping power to help keep their car under control, both on the road and the track. New six-piston calipers in front along with larger front and rear rotors help improve brake fade. New brake pads that are more aggressive also help the car achieve high deceleration and further robustness for more driver confidence
Source: Ford