2013 Ford Shelby GT500 debuts with 662 horsepower
2013 Ford Shelby GT500 is the most powerful Mustang ever created with its 662 horsepower top track speeds of more than 200 mph. It will undoubtedly bring the muscle car philosophy into new heights.
This performance is possible due to its 5.8-liter V8 aluminum-block engine produces. And we must say it again – it achieves the outstanding 662 horsepower (487 kW) at 631 lb.-ft. (855 nM) of torque. In fact, this is the highest-horsepower engine ever produced in the U.S.
The additional horsepower was achieved through thorough optimization of the powertrain. In details this Ford includes a new supercharger, new cross-drilled block and heads, an all-forged engine rotating assembly, updated camshaft profiles, upgraded head gaskets, a new carbon fiber driveshaft and upgraded clutch, transmission and axle.
However, the key to the 662 hp is the larger and more efficient supercharger. What it basically does is to help flow more air through the engine.
In addition to that the cooling system has been upgraded as well. It now features a high-capacity cooling fan, fan shroud with high-speed pressure-relief doors, a more efficient charge air cooler, a higher-flow intercooler pump and an intercooler heat exchanger.
Cooling fan capacity was also modified – now it has an increased and a higher-efficiency intercooler added to keep the air entering the engine as cool as possible. Combined with the efficient, high-capacity flow pump, these two measures control temperatures under extreme conditions.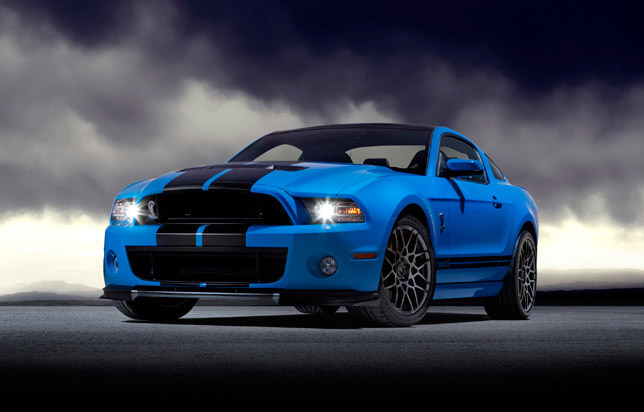 Furthermore, the clutch has been transformed as well. With its increased torque and rpm capacity, it utilizes a dual-disc design. The diameter and clamp load have been increased and the clutch-facing material has been revised for additional resistance to burst and enhanced transfer of power.
Design improvements for this Ford vehicle feature all-new signature lighting with two LED bars in the front and rear, rocker panels in body-color, high-gloss black panel between the taillamps at the rear and a diffuser that surrounds a new quad-tip exhaust.
2013 Shelby GT500 rides on two new sets of forged-aluminum wheels: the 19-inch front and 20-inch rear wheels coupled with Goodyear Eagle® F1 SuperCar G: 2 tires on all configurations. These wheels are freshened with the dark finish and updated spoke designs and in addition to that are extremely lightweight.
Significant work has been also done in aerodynamics of the Shelby GT500. They include a new front splitter and black-painted upper and lower grille inserts. They expose the radiator drive which helps funnel air and cools the internals of the vehicle systems. The larger splitter helps create downforce when the car hits top speeds.
No driver will be less than satisfied when being behind the steering wheel of the new Shelby GT500. Its driving dynamics have been overhauled, it has new Brembo™ brakes with six-piston calipers in front and its wheels were also tuned.
Ford has thought about customers who want even more exceptional drive. The new Shelby is now being offered with the optional Performance Package. This feature is accessed on the dash with a simple push of a button and has several modes for selection. The Normal mode gives the driver a comfortable ride over road irregularities, while the Sport mode delivers improved response time on the track, and less body roll while cornering and pitch under braking.
Additionally, the Torsen® limited-slip differential also comes with the Performance Package. What it basically does is that it helps the rear suspension deliver torque and traction under the most demanding conditions on the track.
Of course, all who are willing can upgrade their Performance Package with an additional Track Package for all-out racetrack performance. The latter includes an external engine oil cooler, rear differential cooler and transmission cooler for further durability.
A lot of innovations have been also included in this GT500 model. One of the key ones is the productivity screen. It offers menu options, giving the customer important information related to muscle car's performance. The LCD can be found between the tachometer and speedometer.
The 2013 Ford Shelby GT500 also can be found now in dealerships.
Source: Ford