2012 Ford Mustang Shelby 1000
The New York International Auto Show will be the venue where Shelby American Inc. will debut their most powerful project yet – the GT Ford Shelby 1000 which started life as a more "standard" 2012 GT 500. And no, the 1000 does not consist of two GT 500s. It's only one of them, with handling, power and breaking performance all beefed up.
Although it's called the Shelby 1000, both of the versions in which it will be offered do not develop 1000 bhp. A street legal one has the "mere" 950 ponies while a track spec. called the Shelby 1000 S/C delivers 1100 bhp. In a strange world we live in.
For that kind of power one would expect a nuclear bomb under the hood. Well, it's actually an overhauled Ford 5.4-liter V8 unit that has new rods, crank and pistons. Also, the heads have been flown, the cooling and exhaust upgraded and the supercharger replaced.
The stopping power on the other hand, is provided by four massive disc brakes – six-piston callipers at the front and four-piston ones at the back. The suspension includes new struts, sway bars and bushings. There are some aerodynamic tweaks as well for the sake of downforce.
A limited production of Shelby 1000s will be built, each numbered and documented. The upgrade packages alone are expected to cost up to $154,995. That's almost as expensive as three "normal" GT 500s.
More updates will be coming soon.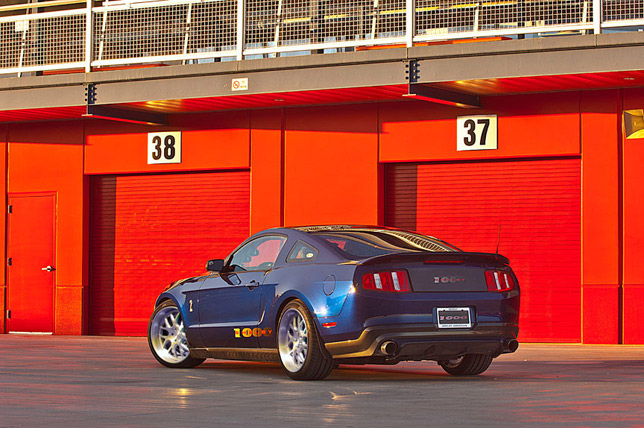 Source: Shelby