2013 Hennessey Performance HPE800 Twin Turbo Jeep
Hennessey Performance (HPE) is a company which makes the fast cars, SUV's and trucks even faster. Now the it will offer a brand new HPE800 Twin Turbo Jeep with a start date in the year of 2013. The vehicle is going to be based on the new Jeep Grand Cherokee SRT8. However there will be some improvements: for example the factory-made 6.4 L Hemi will be increased with a displacement of 7.0 L (426 cubic inches), while at the same time adding a twin turbo forced induction system. The consequents results in the astonishing 805 hp (816 PS / 600 kW) and 823 lb-ft (1115 Nm) of torque. Undeniably they will be enough to propel the HPE800 from 0-60 mph (0-100 km/h) in only 3.1 seconds!
In additional further modifications are made in the transmission system and in the torque converter which are now upgraded. There are also included 15.1 inch Brembo front and rear brakes, a lowered sport suspension system, lighter alloy wheels, carbon fiber front splitter and a custom leather interior with Alcantara steering wheel.
Hennessey Performance offers the great opportunity to clients who want to upgrade the new Jeep Grand Cherokee SRT8 to an even higher level. This vehicle is designed for the drivers who live in an area with cold weather conditions and want to get out of their car the best performance.
HPE will limit production at just 24 examples with pricing starting at $235,000.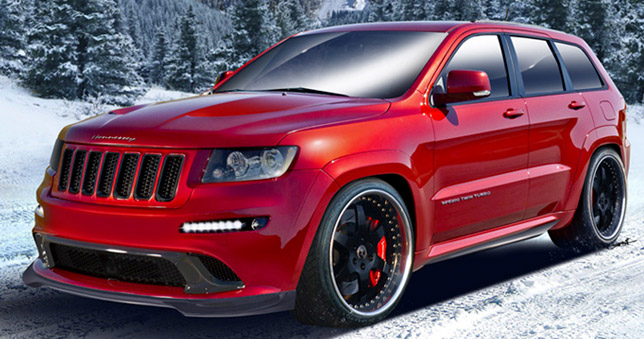 2013 HPE800 Twin Turbo Jeep - Specifications:
Power:
• 805 bhp @ 5,800 rpm
• 823 bhp @ 4,000 rpm
Performance:
• 0-60 mph: 3.1 seconds
• 1/4 mile: 10.9 @ 130 mph
Includes:
• 2012 Jeep Grand Cherokee SRT8
• HPE800 Twin Turbo Engine Upgrade
• Transmission Upgrade
• Torque Converter Upgrade
• HPE 20 inch Wheel Upgrade
• Custom Leather / Alcantara Interior Upgrade
• Brembo Brake System Upgrade (6-piston calipers front and 4-piston calipers rear, 15.1 inch cross drilled rotors front and rear)
• Lowered Suspension System
• Carbon Fiber Front Lip Spoiler
• Serial Numbered Dash Plaque & Engine Compartment Plaque
Source: Hennessey Performance