2013 Porsche 911 GT3 R based on 997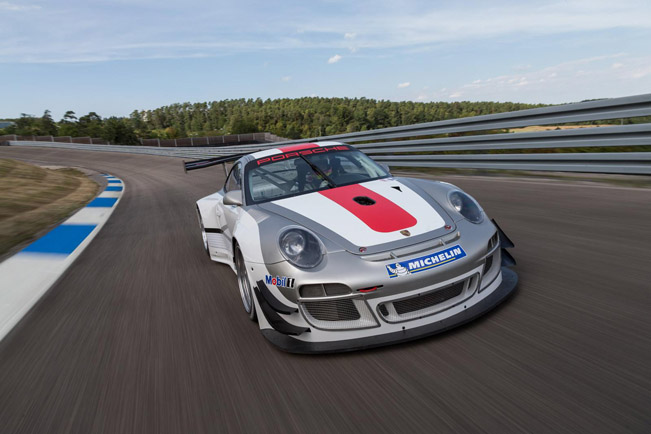 Porsche has introduced the new 911 GT3 R, which is based on the 997 model. With its widened fender flares front and rear, the successful customer sport racer, fielded in the GT3 classes, looks considerably brawnier than its predecessor.
The new aerodynamics generates substantially more downforce, allowing for higher cornering speeds and later braking points. The wider track and the adapted wheels provide additional improvement in traction.
The front bumper panels, all fenders, the sill covers, the rear panel and underbody with rear diffuser received further fine-tuning in the wind tunnel. The rear wing was enlarged to the width of the vehicle and repositioned to work optimally with the redesigned body.
The suspension is also modified. The track of both the front and rear axle grew by 50 millimetres and the wheelbase is 10 mm longer.
the engine is a 4.0 liter flat-six with 500HP (368 kW). It is connected to a 6-speed sequential dog-type gearbox with steering-wheel mounted shift paddles.
The entire conversion costs €45,500 (including taxes).
Source: Porsche