2013 Seat Ibiza Cupra - Perfect Dynamics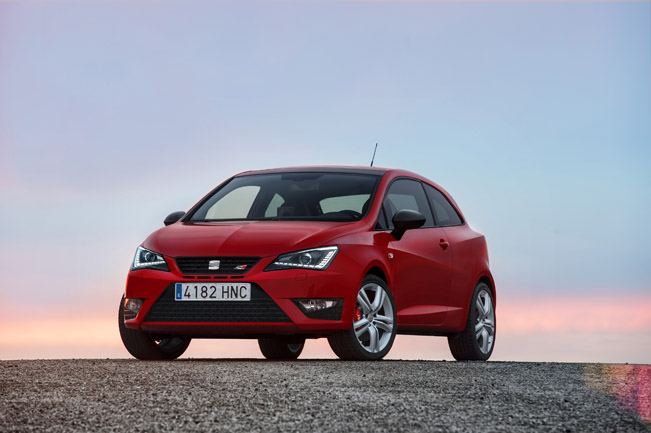 Seat has introduced the 2013 Ibiza Cupra. It represents the essence of the SEAT brand like no other model. The new Ibiza Cupra offers sporting performance for every day, accompanied by a truly impressive set of figures.
It is powered by a 1.4 liter TSI with 180HP (132 kW) at 6,200RPM and 250Nm (184 lb-ft) of torque at 2,000RPM. 0-100 km/h in 6.9 seconds and a top speed of 228 km/h (142 mph). It achieves average fuel consumption of just 5.9 liters / 100 km with CO2 emissions of 139 g/km. The engine is mated to a 7-speed dual-clutch transmission (DSG).
Other interesting features include XDS electronic differential lock, high-performance brakes, sporty exterior and interior and lowered suspension.
The 2013 Ibiza Cupra rolls 17" alloy wheels with low-profile 215/40 R17 87V tyres fitted as standard.
The interior boasts new sports steering wheel with shift paddles, easy-to-read instruments featuring a sporty design, aluminum pedals and Cupra sports seats, which are optionally available in two-tone leather. There is also a powerful audio system, which can be complemented by the innovative SEAT Portable System.
Useful extras include an electronic "note" feature and the "Highbeam" function, which provides additional interior illumination on exiting the car at night. The screen can also show visual warnings issued to indicate when a door has been left open.
"The Ibiza Cupra is a true icon of the SEAT brand. Its stunning design and outstanding dynamics promise sheer driving fun kilometre after kilometre," commented James Muir, President of SEAT, S.A.
"With its innovative technologies, premium interior and further improved quality, the new Ibiza Cupra clearly shows the speed and determination with which our brand is developing.", he added.
Source: Seat