Seat Ibiza Cupra Concept
It still is a concept, but production is foreseeable. It's the Seat Ibiza Cupra ready to please the way only a hothatch can. Powerful, nimble and clever, this little imp has all the right acronyms – TSI, DSG and now XDS – an electronic differential lock.
A 1.4 TSI super/turbocharged engine under the hood packs a punch of around 180 hp and 250 Nm. With a set of paddle shifters behind the steering wheel, one can make good use of that power which is delivered to the road by a seven-speed DSG transmission.
The Ibiza Cupra also has the looks to match the power. Angry looks that is. Seat have focused on the car's face by adding a broad grille, sophisticated and pointy headlights and vast air intakes. The only thing that, to us, ruins the whole situation are those LED daytime running lights which surround the headlights, imprisoning them with redundancy. From the side we have a three-door profile – sharp and muscular with nice C-pillars. 17-inch wheels complement the dynamics while black exterior mirrors offer an aesthetic contrast to the mad yellow paint job of the body.
Jumping inside, we find a minimalist's idea of paradise – a steering wheel with the shifters, four air-vents, a radio and that's about it. Well, there's more than that but take the entertainment system for an example – a 5-inch screen can be unplugged and taken home as a part of Seat's Portable System – that means that in your pocket, you can have a navigation system, a hands-free phone system with voice control and an on-board computer.
Currently, this little critter (that probably has rabies) is on a stand at the 2012 Beijing International Automotive show. One of the many that will most definitely leave an impression on you or atleast a smile.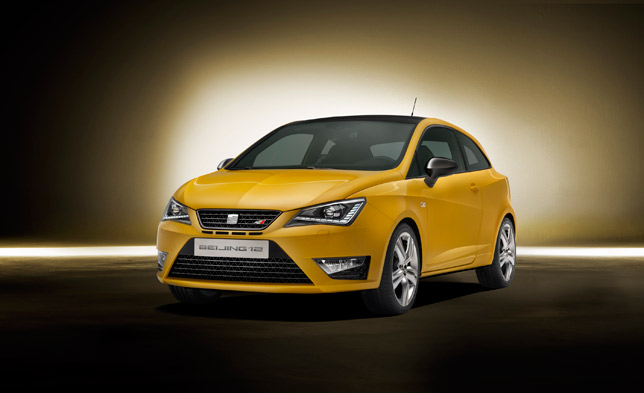 Source: Seat