2013 Shelby Raptor - 6.2 liter Supercharged V8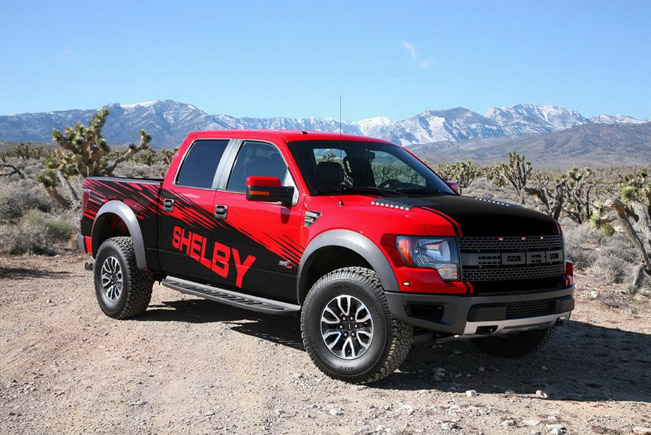 Shelby has announced the new 2013 Raptor, which is based on Ford F-150 SVT Raptor. The big truck comes with more power and some other nice performance and styling parts.
"As a native Texan, Carroll Shelby loved powerful trucks," said John Luft, president of Shelby American. "Carroll connected his love for trucks with his passion for performance on several projects, with the first one over 30 years ago. The latest Shelby truck was created to conquer any terrain with serious velocity."
The power is coming from a 6.2 liter supercharged V8 with 575HP (429 kW). The result is thanks to a new 2.9 liter supercharged and a new Borla sports exhaust system. The power is put on the road through 6-speed automatic gearbox delivering all that power to AWD system.
"Aerodynamically speaking, the Raptor was engineered for maximum performance," said Gary Patterson, vice president of operations. "We spent our efforts improving the power, cooling and handling systems because every Shelby is built to excel under even the most extreme conditions."
Some of the highlights include a set of 35" Goodrich All-Terrain tires fitted on optional custom rims.
The "Off-Road" mode calibrates the transmission, stability and traction control systems to operate in harmony under high-speed off-road situations. In addition, any of the three Shelby graphics packages will help set it apart from every other rig on the road.
There are also some modifications for the interior - boost and fuel pressure gauges, and dash plaque.
The price of this package is $17,995 over the standard F-150 SVT Raptor.
Source: Shelby