2013 Skoda Octavia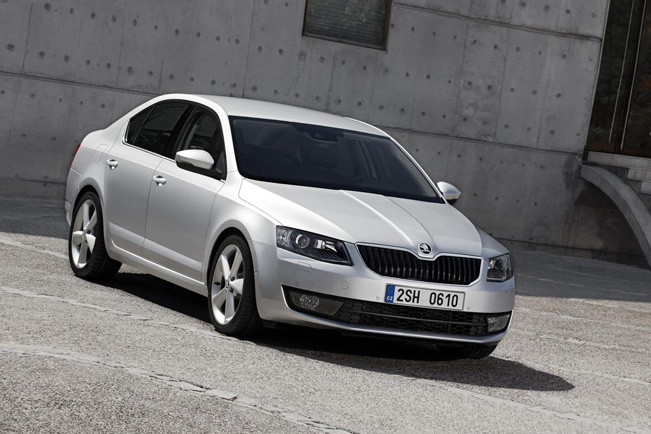 Skoda has announced the new 2013 Octavia. The Octavia's third generation more than ever confirms the car's unique position in its vehicle segment, impressing with an unrivalled space offering, new design, high functionality, innovative safety and comfort systems, low fuel consumption, wide range of 'Simply Clever' solutions and a SKODA-typical price-value ratio.
The model is bigger than its predecessor – 90 mm longer and 45 mm wider. This means better comfort and best-in-class cargo capacity of 590 liters.
Among the new features, you'll find a three-spoke steering wheel, metallic trim, updated infotainment systems and an optional panorama glass roof.  Options include Adaptive Cruise Assistant (intelligent cruise control), Automatic Parking Assistant and Intelligent Light Assistant which automatically switches the high-beam headlights off when oncoming traffic is detected.
The engine range includes 9 power units - four petrols, four diesels and a natural gas variant. No further information is released, but the 1.8-liter TSI will have 180HP (132 kW) and the GreenLine variant with a 1.6-liter TDI that develops 110 HP (81 kW), it boasts an exceptional fuel consumption of just 3.4 litre / 100 km – average. Both manual and automatic gearboxes are available as well as FWD and AWD.
Simply Clever' features in the new Octavia. Depending on trim level, the following items are available either as standard or as an option. They include foldable cargo elements for the boot, enabling safe anchoring of objects on the floor. A double-sided floor covering in the boot can be found for the first time in a SKODA Octavia. An ice scraper is placed inside the filler flap. A warning vest holder is located underneath the driver's seat and a rubbish bin inside the door panel. A multimedia holder has space for an iPod, a mobile phone and the like. A large overhead sunglasses compartment is just one of many storage bays, holders und hooks that make for an intelligent and clean organisation of interior and baggage space of the new SKODA Octavia.
Also on board are the fuel-error prevention function and a boot cover folding away behind the rear seats.
Source: Skoda