2013 Vauxhall Insignia - UK Price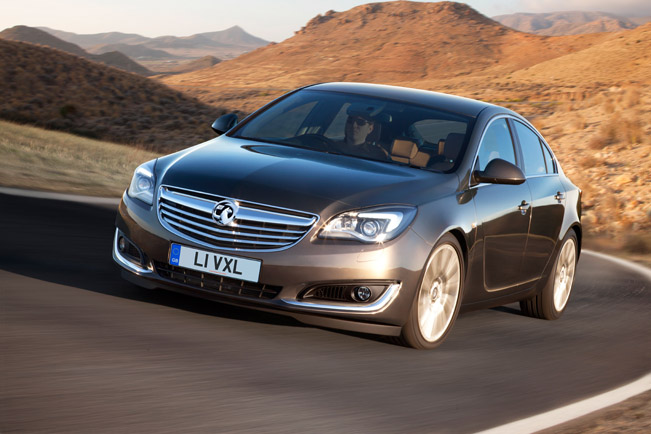 Vauxhall has released full information and pricing of the new 2013 Insignia.
Available as a 5-door Hatch, 4-door Saloon and Sports Tourer estate, the new range now starts at just £16,279, nearly £2,000 less than entry into the outgoing line-up.  There are four new engines including: a 99g/km 140HP 2.0 CDTi offering large cost benefits to fleet and high-mileage drivers; an all-new 1.6 SIDI 170HP Turbo; and a new 250HP 2.0 SIDI Turbo petrol. Existing diesel units have also benefited from refinement improvements.
An all-new infotainment system, incorporating Bluetooth-operated internet connectivity, an 8-inch touchscreen, and 3D navigation and voice control, is fully compatible with a driver's smartphone and allows drivers unrivalled communications while on the move. A DMB (Digital Media Broadcast) radio is now standard across the range.
There are 8 trim levels (down from 14 in the outgoing line-up), ranging from Design to Elite, with a mixture of new models that will appeal to both retail and fleet buyers.
Check out the specs and pricing below!
All models have a long list of standard equipment, which includes:
DMB digital radio
Bluetooth connectivity
USB connection and aux-in socket
CD/MP3 player & stereo radio
LED daytime running lights
Leather covered steering wheel
Cruise control and trip computer
Electric four-way lumbar adjustment on driver's seat
Electric height adjustment on driver's seat
Six airbags
Remote control security alarm and deadlock
Electronic Stability Control
Electric Park Brake
Electronic climate control
Automatic lighting control
Electrically operated front windows
Electrically adjustable/heated door mirrors
Pricing
| | | | | |
| --- | --- | --- | --- | --- |
| Prices from | Price | VAT | Total | OTR |
| Design | £           12,791 | £          2,558 | £         15,349 | £         16,279 |
| Energy | £          15,833 | £          3,167 | £         18,999 | £         19,929 |
| Limited Edition | £          16,749 | £          3,350 | £         20,099 | £         21,029 |
| SRi | £          14,291 | £          2,858 | £         17,149 | £         18,079 |
| SRi VX-Line | £          16,220 | £           3,244 | £         19,464 | £         20,219 |
| SE | £          15,203 | £           3,041 | £         18,244 | £         18,999 |
| Tech Line | £           15,911 | £           3,182 | £         19,094 | £         19,849 |
| Elite | £           17,187 | £           3,437 | £          21,379 | £          21,379 |
Vauxhall Insignia Design 2.0CDTi 16v (120PS) ecoFLEX Start/Stop
Company Car Driver Savings
| | | | |
| --- | --- | --- | --- |
| Equipment | Insignia Design 2.0CDTi 16v (120PS) ecoFLEX S/S | Mondeo Edge 1.6TDCi (115PS) | Passat Bluemotion Tech S 1.6TDI (105PS) |
| DAB Radio | Yes | No | Yes |
| Cruise Control | Yes | Yes | No |
| Alloy Wheels | Yes | No | Yes |
| Bluetooth® | Yes | Yes | Yes |
| USB | Yes | No | Yes |
| Climate control | Yes | No | No |
| LED Daytime running lights | Yes | Yes | No |
| | | | |
| Benefit-in-Kind | Insignia Design 2.0CDTi 16v (120PS) ecoFLEX S/S | Mondeo Edge 1.6TDCi (115PS) | Passat BlueMotion Tech S 1.6TDI (105PS) |
| P11D | £18,690 | £20,140 | £20,715 |
| CO2 g/km | 99 | 112 | 114 |
| BiK Band 2013/14/15 (%) | 14 / 15 / 17 | 17 / 18 / 20 | 17 / 18 / 20 |
| Total BiK Payable (40%) | £3,439 | £4,431 | £4,557 |
| Insignia Company Car Driver Saving | | £992 | £1,118 |
| | | | |
| Fuel Economy and Performance | Insignia Design 2.0CDTi 16v (120PS) ecoFLEX S/S | Mondeo Edge 1.6TDCi (115PS) | Passat BlueMotion Tech S 1.6TDI (105PS) |
| Combined MPG | 76.3 | 65.7 | 68.9 |
| Power | 120PS | 115PS | 105PS |
| Fuel Cost 60,000 Miles | £5,005 | £5,812 | £5,542 |
| Insignia Company Car Driver Saving | | £807 | £537 |
| | | | |
| Total Insignia Company Car Driver Saving | | £1,799 | £1,655 |
Source: Vauxhall