2014 Audi A8 Facelift - Price €74,500 [video]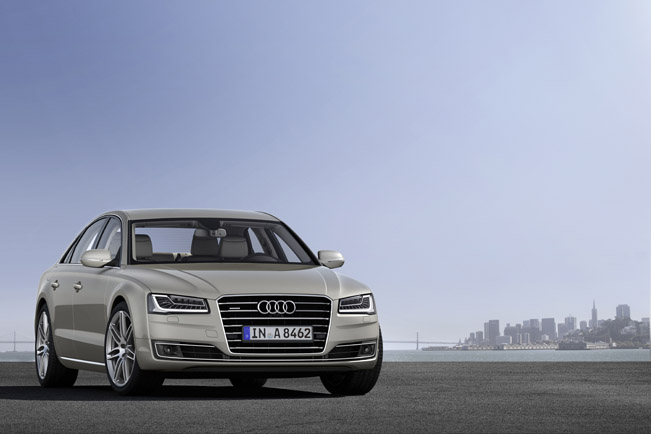 Audi has finally revealed the facelift version of the A8. The 2014 A8/S8 range will be available in Germany starting November – from €74,500.
The exterior boasts a revised front bumper, new front grille and more sculpted hood. There are also LED headlights (standard for V8 models) and Matrix LED headlights available as an option featuring 25 25 individual light-emitting diodes per unit which can be switched on/off individually depending on road conditions. Other highlight are the sequentially illuminated LED turn signals with 18 LEDs in the headlights and 24 LEDs in the taillights.
At the rear, there are also LED taillights as well as reworked rear bumper featuring two rhomboid tailpipes (except the S8 model). There are new chrome strips and high-gloss black window frames. The manufacturer offers twelve paint schemes and wheels in sizes up to 21".
The Audi A8 3.0 TFSI with the normal wheelbase has a curb weight of just 1,830 kilograms (4,034 lbs) – best-in-class for models with all-wheel drive. The body is made almost entirely of aluminum; an Audi Space Frame (ASF) design, it weighs just 231 kilograms (509 lbs).
The engine range includes a 3.0 liter V6 TFSI with 310HP (228 kW), a 4.0 liter V8 TFSI with 435HP (320 kW) and 3.0 liter V6 TDI with 258HP (190 kW) as well as 4.2 liter V8 TDI with 385HP (283 kW). The top-of-range A8 L W12 quattro comes with a 6.3 liter W12 petrol with 500HP (368 kW). The S8 has a 4.0 liter twin-turbo V8 TFSI with 520HP (380 kW).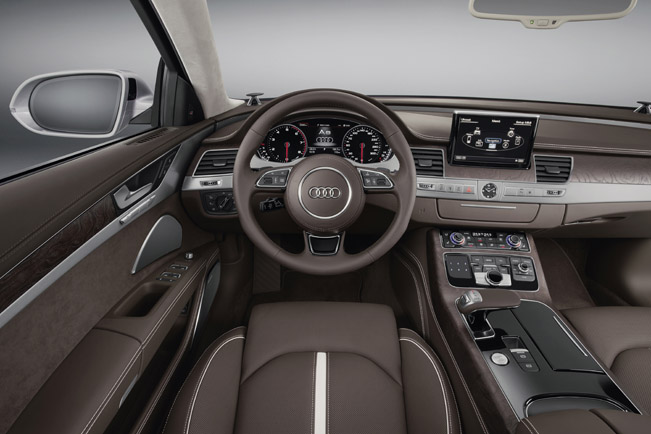 The 2014 Audi A8 Hybrid is powered by a 2.0 liter TFSI and and an electric motor – combined power of 245HP (180 kW) and 480Nm (354 lb-ft), which is more than enough for decent dynamics. The conventional engine drives the front wheels while the electric motor powers the rear axle.
The 3.0 TDI clean diesel needs just 5.9 liters / 100 km (40 mpg US) with CO2 emissions of just 155 g/km. The 6.3 liter W12 boasts best-in-class fuel consumption of 11.7 liters / 100 km (20 mpg US). The hybrid version averages 6.3 liters / 100 km (37.3 mpg US). All engines satisfy the Euro 6 standard. Friction-reducing measures reduce consumption by as much as 10 %.
The interior boasts super luxury like ventilated front seats with massage function, along with individual electrically-adjustable rear seats optionally available for the A8 and A8 L. The latter can also be configured with a continuous, leather-wrapped center console, as well as other optional goodies like four-zone automatic AC and relaxation seat with power footrest.
As is typical for Audi, the new A8 features exemplarily clear controls despite the abundance of functions. Taking center stage is the MMI control element on the tunnel's center console. MMI navigation plus also includes a touchpad. The driver draws characters on the pad (MMI touch) to control numerous navigation and multimedia functions.
Audi connect including car phone is available as a supplement to MMI navigation plus. It uses an integrated UMTS module to connect the new A8 to the Internet. Passengers can surf and e-mail freely via a WLAN hotspot. For the driver, the system delivers the tailored online services from Audi connect to the car, such as online traffic information, Google Earth, Google Street View and online news. The multimedia highlight is the Bang & Olufsen Advanced Sound System. The Rear Seat Entertainment system includes two displays, Bluetooth headphones and a DVD player.
Source: Audi