2015 Audi A8 - US Price $77,400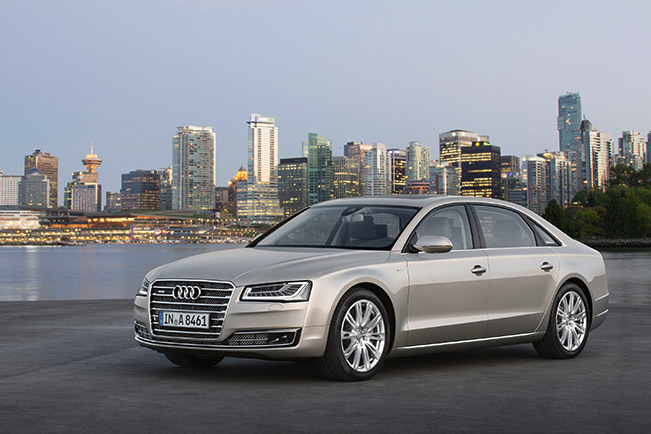 Audi US has unveiled the pricing of the newly redesigned 2015 A8 model line. The luxury sedan boasts a wider stance and more dynamic look.
"As the flagship of the Audi brand, the A8 represents the best in Audi innovation, design and craftsmanship" said Scott Keogh, President, Audi of America.
"The A8 has been a strong contributor toward building our brand and the changes for the 2015 model year will continue to build upon that success.", he added.
The ASF aluminum construction of the A8 and S8 models provides exceptional rigidity and performance while enabling excellent efficiency due to its lightweight characteristics. Completely redesigned LED headlights are now standard on the full model line and are complemented by powerful creases in the hood as well as a newly designed grille, bumper and splitter.
The interior of A8 offers 22-way front comfort seats with five different massage functions, as well as improved acoustic measures for a quieter cabin experience and optimized trunk packaging for increased space and usability.
Suggested retail pricing: - 2015 Audi A8 3.0T: $77,400 - 2015 Audi A8 L 3.0T: $81,400 - 2015 Audi A8 L TDI: $85,100 - 2015 Audi A8 4.0T: $86,400 - 2015 Audi A8 L 4.0T: $90,400 - 2015 Audi S8 4.0T: $114,900 - 2015 Audi A8 L W12: $137,900
Prices above exclude destination charges, taxes, title, optional equipment and dealer charges. Dealer sets actual price.
Source: Audi