2014 Infiniti Models - Q and QX Prefix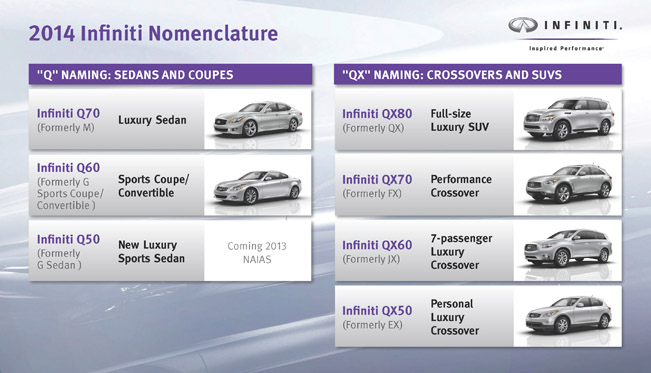 Infiniti adopts a new nomenclature strategy starting from the 2014 model year. The first model to carry Infiniti's new Q badge will be the Q50, an all-new premium sports sedan to be unveiled at the North American International Auto Show in January 2013.
The premium automotive brand will see its model range simply prefixed either by Q – for sedans, coupes and convertibles, or QX, for crossover and SUV models. Each model will be further identified by a double digit representing hierarchy within the range.
This strategic change reflects Infiniti's desire for clarity and cohesiveness as it embarks on ambitious growth plans, including significant expansion of the Infiniti portfolio.
"Over the past few months, we have talked at length with our retailers, our customers, and our business partners about our brand. The need for a new identity and direction to promote consumer familiarity with our model range as we expand the portfolio became evident. To achieve this, we clearly needed a simple and consistent nomenclature framework. After exhaustive research and evaluation, we concluded that 'Q' captured the inspiration within the next generation of Infiniti models, as well as emphasizing our performance credentials while harking back to our heritage with the Q45 – Infiniti's first iconic flagship product in 1989.", commented Johan de Nysschen, President of Infiniti Motor Company Limited.
The new nomenclature strategy will be implemented in logical stages within the existing product range.
Source: Infiniti