2014 Nissan e-NV200 - Price and Specs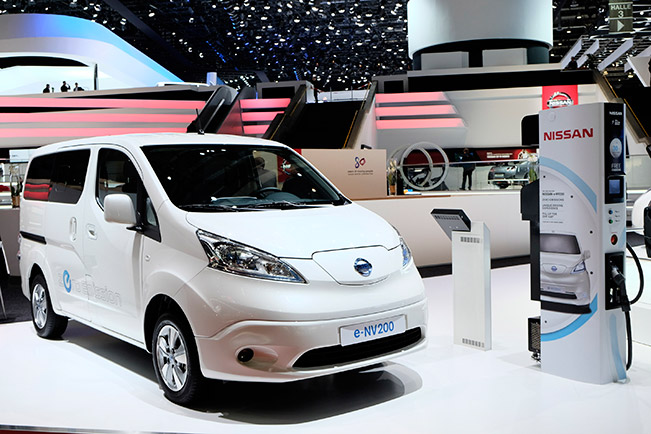 Nissan has announced the pricing of the revolutionary e-NV200 - the 100% electric van that will change the LCV market forever. The model combines the exceptional all-round capability and versatility.
It will hit the market in July in both panel van and five-seat combi form, and in two distinct trim levels, the groundbreaking newcomer offers exceptional running cost savings over a conventional diesel van, making it an unbeatable proposition for businesses large and small.
The all-electric e-NV200 van Acenta is priced from just £16,562, while the combi is priced at £22,859. Meanwhile, those choosing the Flex option, with monthly battery rental starting from £61 per month will see their initial outlay (incorporating PiVG/PiCG) on the same Acenta level van and combi fall to just £13,393 and £17,855 respectively.
e-NV200 drivers can expect to benefit from up to £2,500 of fuel savings with the vehicle costing 2 pence per mile, while maintenance costs will be reduced by £575 based on servicing, parts and wear and tear.
Standard equipment includes luggage slide hook (slide type) & parcel tray, full metal partition with window, 2 speaker CD/FM audio system with MP3/iPod compatibility, rear view camera, steel spare wheel, cable Mode3 32A T2, electric door mirrors, 15" steel wheels, ABS/VDC, iKEY, front power windows, 2 side sliding doors, french back doors with panel and x2 speakers.
Full Pricing
FLEX (BUY – LEASE)**
BUY - BUY
GRADE
OTR w/ GRANT
OTR w/o GRANT
OTR w/ GRANT
OTR w/o GRANT
VAN
ACENTA
£13,393
£17,605
£16,562.20
£21,775
ACENTA RAPID
£14,259.40
£18,745
£17,428.60
£22,915
ACENTA RAPID PLUS
£14,681.20
£19,300
£17,850.40
£23,470
TEKNA RAPID
£15,733.80
£20,685
£18,903.00
£24,855
TEKNA RAPID PLUS
£16,155.60
£21,240
£19,324.80
£25,410
COMBI 5 SEATS
ACENTA
£17,855
£22,855
£22,859
£27,859
ACENTA RAPID PLUS
£19,349
£24,350
£24,353
£29,353
TEKNA RAPID
£20,639
£25,640
£25,643
£30,643
TEKNA RAPID PLUS
£21,305
£26,305
£26,309
£31,309
OTR for VAN excludes VAT, includes First reg. fee of £55
OTR for COMBI includes VAT, includes First reg fee of £55
Incentive for VAN (PiVG) is 20% up to a maximum of £8,000
Incentive for COMBI (PiCG) is 20% up to a maximum of £5,000
* Above figures are based on prices as of May 2014 and calculated for a utilisation period of 4 years and 9,375 miles per year.
**Subject to monthly battery rental starting at £61 per month
Battery Lease Grid
| | | | | |
| --- | --- | --- | --- | --- |
| | Mileage/year | | | |
| Contract term | < 6,000 | 9,000 | 12,000 | 15,000 |
| 36 months+ | £61.00 | £63.00 | £75.00 | £88.00 |
| 24 months | £70.00 | £72.00 | £84.00 | £97.00 |
| 12 months | £79.00 | £81.00 | £93.00 | £106.00 |
Equipment summary (Van)
Acenta:
Luggage slide hook (slide type) & parcel tray
Full metal partition with window
2 speaker CD/FM audio system with MP3/iPod compatibility
Rear view camera
Steel spare wheel
Cable Mode3 32A T2
Electric door mirrors
15" steel wheels
ABS/VDC
iKEY
Front power windows
2 side sliding doors
French back doors with panel
x2 speakers
Acenta Rapid (additional features over Acenta)
Acenta Rapid Plus (additional features over Acenta Rapid)
Fast Charging (6.6kW on-board)
Tekna Rapid (additional features over Acenta Rapid Plus)
Carwings
Cruise control
Safety pack
Full airbag pack
Multifunctional steering wheel
Luggage floor protector (standard)
x4 speakers
15" alloy wheels
Coloured bumpers
Available Options Across Grades (excl VAT)
| | | |
| --- | --- | --- |
| | OPTIONS | PRICES (EXCL. VAT) |
| (1) | Safety Pack | £360 |
| | − Front fog lamps | |
| | − Passenger airbag | |
| (2) | Cold pack | £130 |
| | − Heated front seats | |
| | − Heated steering wheel | |
| | − Heated door mirrors | |
| | − Electric door mirrors | |
| (3) | Fast (6.6kW) charging | £555 |
| (4) | Glazed French rear doors | £150 |
| (5) | NissanConnect navigation system | £500 |
| (6) | Air conditioning | £450 |
| (7) | Full mesh partition | £130 |
Equipment summary (5-seat combi)
Acenta:
Luggage floor trim
x2 speakers
Cruise control
Driver adjustable speed limiter
CD/FM audio system with MP3/iPod compatibility
Rear view camera
Air conditioning
Steel spare wheel
Cable Mode3 32A T2
Electric doors mirrors
Coloured bumpers
15" steel wheels
ABS/VDC
i-KEY
Front power windows
TPMS (Tire pressure monitoring system)
2 side sliding doors
Back door with Tailgate
2nd row bench (Folding + ISOFIX)
Green tinted glass (2nd row)
Rear window defroster with wiper
Full Airbag pack (Side + curtain + passenger airbags)
Acenta Rapid Plus (additional features over Acenta)
Rapid charging
Fast Charging (6.6kW on-board)
Tekna Rapid (additional features over Acenta Rapid Plus)
Carwings
Cruise control
Safety pack
French back doors with panel
Multifunctional steering wheel
Luggage floor protector (standard)
x4 speakers
15" alloy wheels
Tekna Rapid Plus (additional features over Tekna Rapid)
Fast Charging (6.6kW on-board)
Available Options Across Grades (excl VAT)
| | | |
| --- | --- | --- |
| | OPTIONS | PRICES (EXCL. VAT) |
| (1) | Cold pack | £130 |
| | − Heated front seats | |
| | − Heated steering wheel | |
| | − Heated door mirrors | |
| | − Electric door mirrors | |
| (2) | Rapid charging | £1,270 |
| | (ACENTA only) | |
| (3) | Fast (6.6kW) charging | £555 |
| (4) | Sliding 2nd row windows | £90 |
| (5) | NissanConnect navigation system | £500 |
| (6) | Air conditioning | £450 |
| (7) | Front fog lamps | £140 |
Source: Nissan