2014 Nissan GT-R Nismo EU-Spec - Road and Track Test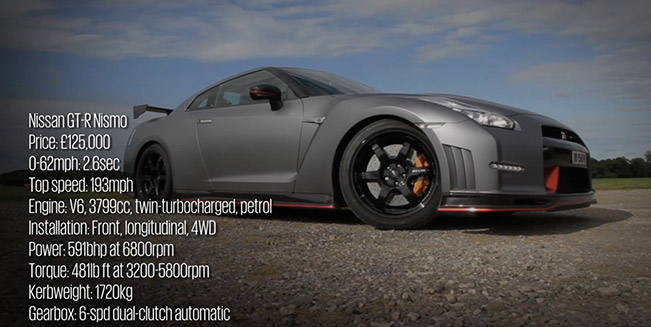 Autocar has published a full test drive of the new 2014 Nissan GT-R Nismo EU-Spec. The sports car has been driven on both public roads and a race track. Behind the steering wheel was the famous automotive journalist - Steve Sutcliffe. He determined whether this extra-special Godzilla is worth the additional cash. Speaking about "additional" cash, the price of GT-R Nismo is whopping £125,000.
2014 Nissan GT-R Nismo is powered by the well-known 3.8 liter twin-turbocharged V6 – 600HP (441 kW) at 6,800RPM and 654Nm (481 kW) at 3,200RPM. The curb weight is 1,720 kg (3,792 lbs), so the power-to-weight ratio is 2.87 kg / hp. 0-100 km/h in 2.6 seconds and a top speed 311 km/h (193 mph). The engine is connected to a 6-speed dual-clutch automatic transmission sending the power to a 4WD (four-wheel drive system).
The Nismo also comes with advanced aerodynamics generating additional 100kg of downforce at 300km/h (186mph) for exceptional road-behavior. The additional power and improved aerodynamics, the GT-R Nismo is able to complete a lap around Nurburgring Nordschleife in 7 minutes and 8.6 seconds. It holds the volume production car lap record, which the gold standard of high performance achievement.
Enjoy!
Source: Autocar