2014 Nissan Qashqai - Technology Highlights [video]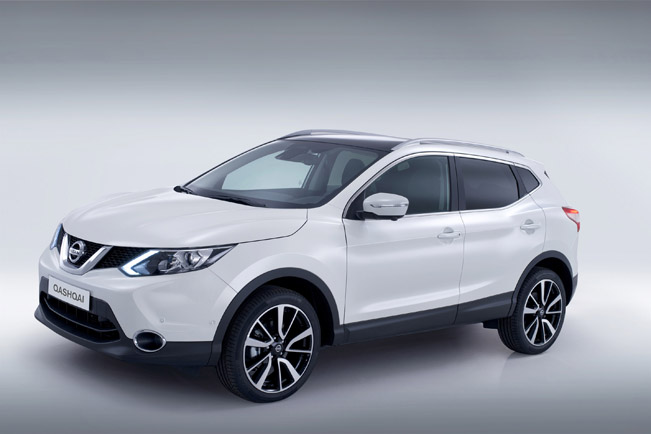 In the new Qashqai, Safety Shield technologies include the following features:
Forward Emergency Braking
By scanning the road ahead using a built-in radar system, the Qashqai delivers three levels of assistance. First is an audible warning, alerting the driver if the gap to the car in front is closing. Secondly, if the driver does not react, the brakes are automatically partially applied. Finally if the gap is still closing, the brakes will be applied harder if necessary.
The new Qashqai gets to know you so that it can tell when you are getting drowsy. After learning your driving style, the system will monitor driving inputs, showing a dashboard alert if steering becomes erratic, indicating the driver should take a break.
Helping new Qashqai drivers to both stay safe and within the law, speed limit signs are automatically read by the front-facing camera and displayed to the driver. This function works across Europe, regardless of national sign typography. It even recognises that some countries enforce a weather dependent lower speed limit if it's raining, so both dry and wet weather limits are displayed to the driver.
A great feature for multi-lane highways, Lane Departure Warning detects if the car is starting to drift out of lane. Advanced computer programming detects road markings allowing the Qashqai to determine if it is drifting out of position. If it does, and the driver has not operated the indicators, a warning is given to the driver to correct their road position.
Nissan's system uses the rear view Around View Monitor camera to detect vehicles in the hidden blind spot areas on both sides of the Qashqai. If a vehicle is detected in either blind spot, a discreet warning light illuminates in the glass of the door mirror. If the driver indicates to change lanes and the system detects a vehicle in the danger area, the light flashes and an audible warning is given. Moving Object Detection
A high resolution camera combined with advanced software has led to a sophisticated automatic high and low headlight beam function for the new Qashqai. The system optimises the use of the headlamps in order to provide the maximum amount of light possible for any driving scenario. Safety Shield is just the start of the Qashqai's technology story.
Using Nissan's very latest ride and handling know-how, Chassis Control enhances both ride and handling, learning from the development of a vast variety of features from past Nissan and Infiniti models. While the Vehicle Dynamic Control system (VDC) continues to correct severe traction loss, at lower speeds with lower forces the Active Trace Control applies specific braking force to each wheel to correct the course of the Qashqai when cornering, giving a more dynamic feel without interfering with the driving experience. What's more, when driving over undulating surfaces, Active Ride Control applies subtle braking to individual wheels to deliver flatter body control enhancing comfort for all occupants.
Source: Nissan