2014 Renault Clio Cup - 220HP and 270Nm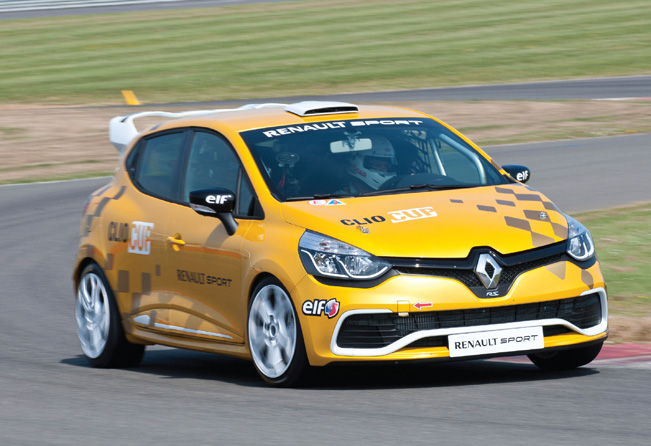 Renault has announced the new 2014 Clio Cup, which benefits from all the assets of the Clio Renaultsport 200 Turbo EDC.
The 2014 Clio Cup comes with a welded roll cage, monocoque chassis, 17" rims fitted with low-profile performance tires. The front suspension includes Pseudo-McPherson one-way adjustable ZF Race Engineering shock absorber and the rear - One-way adjustable ZF Race Engineering shock absorber with programmed flexible axle/torsion beam.
The power is coming from a 220HP (162 kW) at 6,000 RPM and 270Nm (200 lb-ft) at 2,500 RPM. The engine is connected to a Sadev ST82-17 6-speed sequential gearbox sending the power to a Sadev 23/90 self-locking limited-slip differential at the front wheels.
The curb weight is just 1065 kg (2350 lbs).
The new Clio Cup is manufactured and assembled at the Alpine factory in Dieppe. With its bench-tested and race-sealed engine, the car is delivered ready-to-race.
TECHNICAL SPECIFICATION
CHASSIS
Type
Clio Renaultsport steel bodyshell reinforced by a welded roll cage
Materials
Steel
ENGINE
Type
Renault M5Mt, 4 cylinder, 16 valve,  1618cc, turbo charged with direct injection
Max power
220 hp at 6000 rpm
Max torque
270 Nm at 2500-5500 rpm
Max engine speed
6500 rpm
Electronics
Cosworth SQ7 Di – XAP electric control
TRANSMISSION
Gearbox
Sadev ST82-17 six-speed sequential + reverse gear
Controls
XAP electric control, semi-automatic steering-wheel mounted
Differential
Sadev 23/90 self-locking limited-slip
Clutch
AP Racing clutch discs and mechanism – Sadev stop
AXLES AND SUSPENSIONS
Front
Pseudo-McPherson one-way adjustable ZF Race Engineering shock absorber
Rear
One-way adjustable ZF Race Engineering shock absorber with programmed flexible axle/torsion beam
BRAKES
System
AP Racing, two separate master cylinders
Discs
AP Racing 320mm vented (front) and 260mm solid (rear)
Calipers
Brembo four-piston (front)
WHEELS
Rims
Speedline 8x17 aluminium one-piece
Tyres
Michelin 20-61x17 or Dunlop 21-62 x17 (UK)
DIMENSIONS, WEIGHT AND CAPACITY
Length / width / height
4090 / 1945 / 1429 mm
Wheel base
2576 mm
Front / rear track
1550 / 1520 mm
Fuel tank
40 litres
Unloaded weight
1065 kg
Source: Renault