2014 Renault Master - Pricing Announced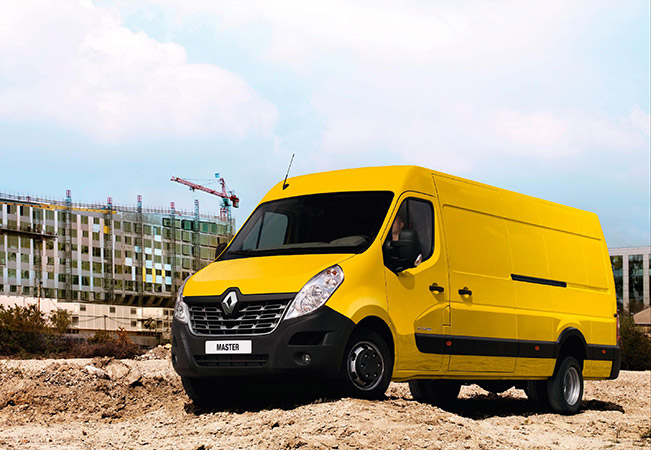 Renault UK has announced the pricing and specification for the panel and crew van versions of the new Master, starting at just £21,120 (basic price excluding VAT and OTR charges). 2014 Renault Master boasts a more contemporary look, several new features of both – standard and optional equipment as well as two Twin-Turbo Energy engines.
2014 Renault Master is powered by a choice of five all-diesel 2.3 litre engines. There are three Energy versions like the new Twin Turbo dCi 165 boasting a fuel economy of up to 40.9 mpg UK (6.9 liters / 100 km) – combined cycle and CO2 emissions of 180g/km. They are all mated to 6-speed manual or Quickshift6 transmissions.
The line-up includes a choice of four lengths and three heights, panel van, crew cab, platform cab, chassis cab, tippers, dropside and box van variants, as well as front- and rear-wheel drive, for a carrying capacity of between 8 and 22 cubic metres. There is also a choice of four GVW weights: 2800 kg, 3300 kg, 3500 kg or 4500 kg.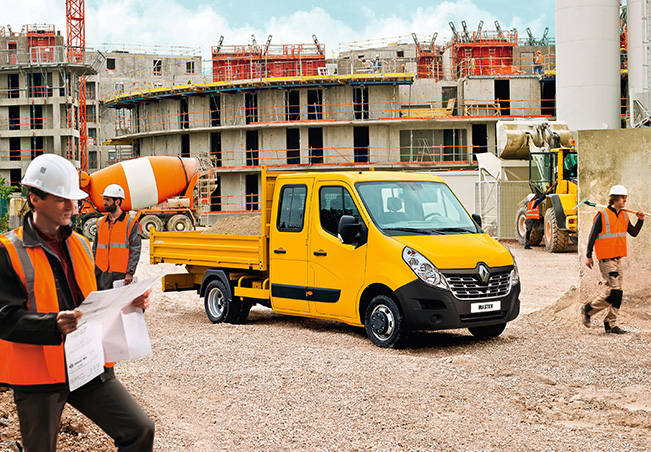 Standard equipment includes a height adjustable driver's seat with armrest and lumbar adjustment, left side loading door (unglazed), reach and rake adjustable steering wheel, electric front windows, electric heated door mirrors, full steel bulkhead, spare wheel, remote central locking (two button key) and deadlocking, plus 16 anchorage points (18 on long wheelbase). And, new  are ESC with HSA (Hill Start Assist) and Grip Xtend, an advanced traction control system to cope with loose surfaces (mud, sand and fresh snow etc.), plus DAB radio with USB connectivity and Bluetooth all as standard.
The options list features cruise control with speed limiter - £250, climate control - £950 (or £200 upgrade on Business+), and finally Renault's integrated Carminat TomTom satellite navigation with 2x20W radio CD, Bluetooth and USB and fingertip controls priced at £650. Also on offer is air suspension - £2,000, auto lights and wipers, plus front fog lights - £250 and cornering lights - £130.
The new Master is available in a choice of 10 body colours, including three metallic shades.
Ordering has now opened with first deliveries due in September. Full UK pricing for panel and crew van versions of New Master are:
NEW MASTER PANEL VAN
Version
BASIC PRICE
OTR PRICE
BUSINESS SWB LOW ROOF
FWD SL28 dCi 110
£21,120.00
£26,229.00
FWD SL28 ENERGY dCi 110
£21,370.00
£26,529.00
FWD SL28 dCi 125
£21,920.00
£27,189.00
FWD SL28 dCi 125 Quickshift6
£22,720.00
£28,149.00
FWD SL33 dCi 110
£22,320.00
£27,669.00
FWD SL33 dCi 125
£23,120.00
£28,629.00
FWD SL35 dCI 125
£23,820.00
£29,469.00
BUSINESS SWB MEDIUM ROOF
FWD SM33 dCi 110
£22,920.00
£28,389.00
FWD SM33 dCi 125
£23,720.00
£29,349.00
BUSINESS MWB MEDIUM ROOF
FWD MM33 dCi 110
£23,920.00
£29,589.00
FWD MM33 ENERGY dCi 110
£24,170.00
£29,889.00
FWD MM33 dCi 125
£24,720.00
£30,549.00
FWD MM33 ENERGY dCI 135
£25,670.00
£31,689.00
FWD MM33 dCi 125 Quickshift6
£25,520.00
£31,509.00
FWD MM35 dCI 110
£24,620.00
£30,429.00
FWD MM35 ENERGY dCi 110
£24,870.00
£30,729.00
FWD MM35 dCi 125
£25,420.00
£31,389.00
FWD MM35 ENERGY dCi 135
£26,370.00
£32,529.00
FWD MM35 dCi 125 Quickshift6
£26,220.00
£32,349.00
FWD MM35 ENERGY dCi 165
£27,170.00
£33,489.00
RWD MML35 dCi 125
£27,120.00
£33,429.00
RWD MML45TW dCi 125
£29,320.00
£36,069.00
RWD MML45TW ENERGY dCi 165
£31,070.00
£38,169.00
BUSINESS MWB HIGH ROOF
FWD MH35 dCi 110
£25,220.00
£31,149.00
FWD MH35 dCi 125
£26,020.00
£32,109.00
FWD MH35 ENERGY dCi 135
£26,970.00
£33,249.00
BUSINESS LWB MEDIUM ROOF
FWD LM35 dCi 110
£25,420.00
£31,389.00
FWD LM35 ENERGY dCi 110
£25,670.00
£31,689.00
FWD LM35 dCi 125
£26,220.00
£32,349.00
FWD LM35 ENERGY dCi 135
£27,170.00
£33,489.00
FWD LM35 dCi 125 Quickshift6
£27,020.00
£33,309.00
FWD LM35 ENERGY dCi 165
£27,970.00
£34,449.00
RWD LML35 ENERGY dCi 135
£28,870.00
£35,529.00
RWD LML35 ENERGY dCi 165
£29,670.00
£36,489.00
RWD LML35TW dCi 125
£28,920.00
£35,589.00
RWD LML35TW ENERGY dCi 165
£30,670.00
£37,689.00
RWD LML45TW dCi 125
£30,120.00
£37,029.00
RWD LML45TW dCI 150 Quickshift6
£31,720.00
£38,949.00
RWD LML45TW ENERGY dCi 165
£31,870.00
£39,129.00
BUSINESS LWB HIGH ROOF
FWD LH35 dCi 110
£26,020.00
£32,109.00
FWD LH35 ENERGY dCi 110
£26,270.00
£32,409.00
FWD LH35 dCi 125
£26,820.00
£33,069.00
FWD LH35 ENERGY dCi 135
£27,770.00
£34,209.00
FWD LH35 ENERGY dCi 165
£28,570.00
£35,169.00
RWD LHL35TW dCi 125
£29,520.00
£36,309.00
RWD LHL35 ENERGY dCi 135
£29,470.00
£36,249.00
RWD LHL35 ENERGY dCi 165
£30,270.00
£37,209.00
RWD LHL35TW ENERGY dCi 165
£31,270.00
£38,409.00
RWD LHL45TW dCi 125
£30,720.00
£37,749.00
RWD LHL45TW ENERGY dCi 165
£32,470.00
£39,849.00
RWD LHL45TW dCi 150 Quickshift6
£32,320.00
£39,669.00
BUSINESS+ SWB LOW ROOF
SL28 dCi 110
£22,220.00
£27,549.00
BUSINESS+ MWB MEDIUM ROOF
FWD MM33 dCi 110
£25,020.00
£30,909.00
FWD MM33 ENERGY dCi 110
£25,270.00
£31,209.00
FWD MM33 dCi 125
£25,820.00
£31,869.00
FWD MM33 ENERGY dCi 135
£26,770.00
£33,009.00
FWD MM35 dCi 125
£26,520.00
£32,709.00
FWD MM35 ENERGY dCi 135
£27,470.00
£33,849.00
FWD MM35 ENERGY dCi 165
£28,270.00
£34,809.00
BUSINESS+ LWB MEDIUM ROOF
FWD LM35 dCi 125
£27,320.00
£33,669.00
FWD LM35 ENERGY dCi 135
£28,270.00
£34,809.00
FWD LM35 ENERGY dCi 165
£29,070.00
£35,769.00
NEW MASTER CREW VAN
Version
BASIC PRICE
OTR PRICE
BUSINESS MWB MEDIUM ROOF - 7 SEATS
FWD MM35 dCi 110
£27,000.00
£33,285.00
FWD MM35 dCi 125
£27,800.00
£34,245.00
RWD MML35 dCI 125
£29,500.00
£36,285.00
BUSINESS+ MWB MEDIUM ROOF - 7 SEATS
FWD MM35 dCi 125
£28,900.00
£35,565.00
NEW MASTER CONVERSIONS : all BUSINESS trim level
Version
BASIC PRICE
OTR PRICE
CHASSIS CAB MWB SINGLE CAB
Chassis Cab FWD ML35 dCi 125
£23,300.00
£28,845.00
Chassis Cab RWD ML35 dCi 125
£24,200.00
£29,925.00
Chassis Cab RWD ML35 ENERGY dCi 135
£25,150.00
£31,065.00
Chassis Cab RWD ML35 ENERGY dCi 165
£25,950.00
£32,025.00
Chassis Cab RWD ML35 TW dCi 125
£25,200.00
£31,125.00
Chassis Cab RWD ML35 TW ENERGY dCi 135
£26,150.00
£32,265.00
Chassis Cab RWD MLL35TW ENERGY dCi 165
£27,750.00
£34,185.00
Chassis Cab RWD MLL45TW ENERGY dCi 165
£28,950.00
£35,565.00
CHASSIS CAB LWB SINGLE CAB
Chassis Cab FWD LL35 dCi 125
£24,100.00
£29,805.00
Chassis Cab RWD LL35 dci 125
£25,000.00
£30,885.00
Chassis Cab RWD LL35 ENERGY dCi 165
£26,750.00
£32,985.00
CHASSIS CAB MWB DOUBLE CAB
Chassis Double Cab FWD ML35 dCi 125
£24,550.00
£30,345.00
Chassis Double Cab RWD MLL35TW ENERGY dCi 165
£29,000.00
£35,685.00
CHASSIS CAB LWB DOUBLE CAB
Chassis Double Cab FWD LL35 dCi 125
£25,350.00
£31,305.00
Chassis Double Cab RWD LLL35TW ENERGY dCi 165
£29,800.00
£36,645.00
PLATFORM CAB
Platform Cab FWD LL35 dCi 125
£24,400.00
£30,165.00
Platform Cab FWD LL35 dCi 125 Quickshift6
£24,400.00
£30,165.00
Platform Cab FWD LL35 ENERGY dCi 165
£26,150.00
£32,265.00
DROPSIDE MWB SINGLE CAB
Chassis Cab Dropside FWD ML35 dCi 125
£25,150.00
£31,065.00
Chassis Cab Dropside FWD ML35 ENERGY dCi 165
£26,900.00
£33,165.00
Chassis Cab Dropside RWD ML35 dCi 125
£26,050.00
£32,145.00
Chassis Cab Dropside RWD ML35 ENERGY dCi 135
£27,000.00
£33,285.00
Chassis Cab Dropside RWD ML35 TW dCi 125
£27,050.00
£33,345.00
DROPSIDE LWB SINGLE CAB
Chassis Cab Dropside FWD LL35 dCi 125
£25,950.00
£32,025.00
Chassis Cab Dropside FWD LL35 ENERGY dCi 165
£27,700.00
£34,125.00
Chassis Cab Dropside RWD LL35 dCi 125
£26,850.00
£33,105.00
Chassis Cab Dropside RWD LLL35 TW dCi 125
£28,650.00
£35,265.00
Chassis Cab Dropside RWD  LLL35TW ENERGY dCi 165
£30,400.00
£37,365.00
DROPSIDE DOUBLE CAB LWB
Chassis Double Cab Dropside FWD  LL35 dci 125
£27,200.00
£33,525.00
Chassis Double Cab Dropside RWD  LL35 dci 125
£28,100.00
£34,605.00
Chassis Double Cab Dropside RWD  LL35 ENERGY dCi 165
£29,850.00
£36,705.00
Chassis Double Cab Dropside RWD  LLL35TW ENERGY dCi 165
£31,650.00
£38,865.00
TIPPER SINGLE CAB MWB
Tipper single Cab FWD  ML35 dci 125
£27,050.00
£33,345.00
Tipper single Cab FWD  ML35 ENERGY dCi 135
£28,000.00
£34,485.00
Tipper single Cab RWD  ML35 dci 125
£27,950.00
£34,425.00
Tipper single Cab RWD  ML35 ENERGY dCi 135
£28,900.00
£35,565.00
Tipper single Cab RWD  ML35TW dci 125
£28,950.00
£35,625.00
Tipper single Cab RWD  ML35TW ENERGY dCi 135
£29,900.00
£36,765.00
TIPPER DOUBLE CAB LWB
Tipper Double Cab RWD  LL35 dci 125
£30,000.00
£36,885.00
Tipper Double Cab RWD  LL35 ENERGY dCi 135
£30,950.00
£38,025.00
Tipper Double Cab RWD  LL35TW dci 125
£31,800.00
£39,045.00
Tipper Double Cab RWD  LL35TW ENERGY dCi 135
£32,750.00
£40,185.00
LUTON LWB
Luton FWD LL35 dCi 125
£31,850.00
£39,105.00
Luton FWD LL35 ENERGY dCi 135
£32,800.00
£40,245.00
Luton FWD LL35 ENERGY dCi 165
£33,600.00
£41,205.00
BOX VAN
Box Van 20M3 FWD LL35 dCi 110
£27,750.00
£34,185.00
Box Van 20M3 FWD LL35 dCi 125
£28,550.00
£35,145.00
Box Van 20M3 RWD  LL35 dCi 125
£29,450.00
£36,225.00
Box Van 22M3 RWD  LLL35TW dCi 125
£32,250.00
£39,585.00
Source: Renault