2014 Skoda Octavia - Price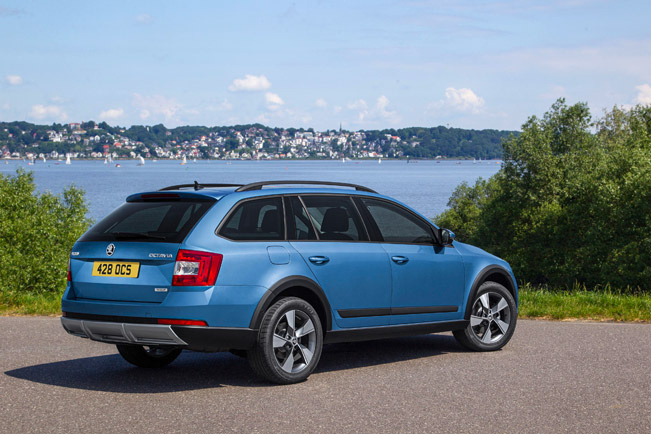 Skoda has announced the price of the new 2014 Octavia Scout, which was presented at the 2014 Geneva Motor Show, this March.
Priced from £25,315 ($42,233), the 2014 Skoda Octavia Scout comes with an off-road look and an all-wheel-drive system.  The new wagon model is also offering more room for the passengers and their luggage and more safety and comfort.
The new Octavia Scout is provided with  a fifth-generation Haldex transmission to shuffle torque respectively and to combat loss of traction during driving. Thanks to the newly AWD, based on the Haldex clutch, the wagon comes with 25% better traction and more climbing power with advanced 4x4 technology.
In fact the 2014 Scoda Octavia Scout is based on the Combi version of the model. It features more rugged-looking black bumpers, and silver-colored off-road accessories. The front bumper features a broad air intake and fog lights. The side skirts and wheel arches are covered in protective black panels. In comparison to the Combi version, the new Octavia Scout has 33 mm higher ground clearance, 17''  Proteus light-alloy wheels , spoiler and diffuser on the rear bumper, molded wheel arch extensions and side protection strips.
There are two engines in the range : a 2.0TDI with a six-speed manual gearbox and power of 150PS (110 kW), and a 2.0TDI with power of 184PS (135 kW) and a six-speed automatic DSG gearbox as a standard.
Comfortable, feature-packed interior of the new Scout model boasts Alcantara interior, which combines style and comfort. At the same time, the interior reveals a different side of this vehicle. Four-spoke steering wheel and gearstick with 4×4 emblem are also part of the Leather trim interior.
As options are available a number of electronic comfort systems : Light Assistant and Park Assist. The Scout can also be delivered with a new rear-view parking camera.
Furthermore, in addition to its off-road ability, the new Octavia Scout offers all the acclaimed safety and comfort features of the standard model. All models are available with up to nine airbags and Crew Protection Assistant for vehicle safety in crash situations and Driver fatigue sensor.
This off-road Scout is expected on the market in August 2014.
Source : Skoda