2014 Skoda Octavia Scout Debuts At Geneva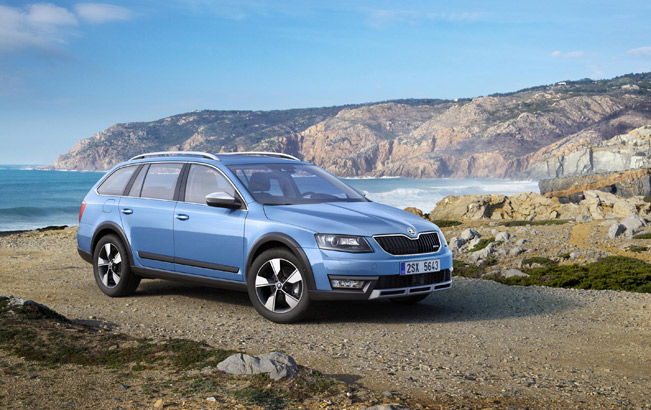 The Skoda Octavia Scout: essentially a Combi with a personality disorder (it, among others, thinks its a mountain goat). Now, there's a new one due to appear at the 2014 Geneva Motor Show in March.
There is, undeniably, an off-roadish look about it. The typical-for-crossovers black bumpers, door sills and wheel arches are the first to catch your attention. Bring out a ruler, however, and you'll also find that the ground clearance has been increased by 33 millimeters compared to the standard Octavia. The 17-inch alloy wheels are a given and inside you'll find a 3-spoke multi-functional steering wheel with Scout-specific features.
It's clear that the Scout wants to be taken seriously and for a good reason. It has an AWD system that incorporates VAG's Haldex 5 coupling system, the traction has been increased by 25% to up to two tonnes, and the larger approach/departure angles mean that the Scout also has better climbing capabilities. There will be a choice of two diesel and one petrol engines. If we had to guess, we'd say the two diesel options are Volkswagen's 1.6- and 2.0-liter blocks that develop 105 PS and 140 PS respectively. As for the petrol, our money goes on the 160 PS 1.8 TSI plant (not entirely sure about that one). Either way, all powertrains will be 20% more economical when compared to the Scout's predecessor.
Source: Skoda