2015 Bentley Grand Convertible Offers Redefined Luxury and Style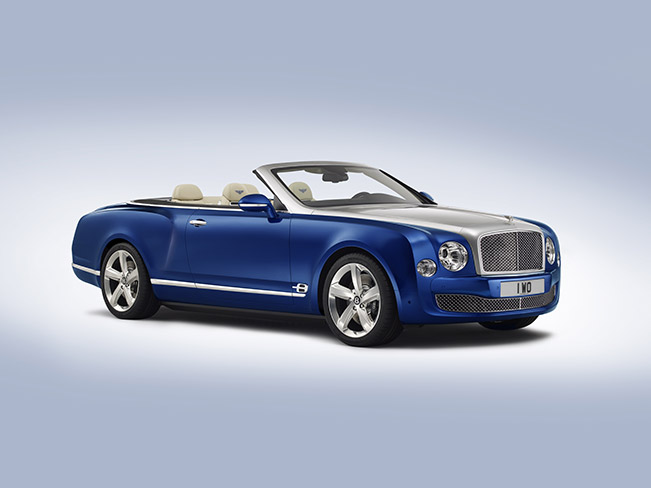 Can you imagine an ultimate luxury expression in a car? I can. And this is when I think of 2015 Bentley Grand Convertible. The car is truly elegant, sophisticated and distinguishable. It not only stands for class, it exhibits it so visibly that no one can argue against it. The Grand Convertible can really become The Grandest!
Under the bonnet, the 2015 Bentley Grand Convertible hides the well-known Bentley's 6¾-litre twin-turbo V8 engine. It generates 530 hp (395 kW) and 1,100 Nm (811 lb.ft) of torque. With such power, the car has the passion of life and speed of hell. Almost. This powerful creation of Bentley is a representation of pure excellence. It conveys luxury and performance in an extraordinary manner which promises full sensory indulgence of open-air driving.
The impressive exterior of the car is exclaimed throughout a bespoke color. The saturated blue body of the Grand Convertible is complemented by silver "liquid metal" finish to the bonnet and windscreen frame. It is simply majestic! The car is as splendid on the inside as on the outside. Its interior comprises of 4 naturally tanned leather hides that are merged together with progressive-diamond quilting. The form of the pattern shifts and alters over the seats and doors. The cabin is spacious enough and provides room for four adults. Patches of bright blue are used again in order to underline the exclusiveness of the vehicle. There is entirely hand-crafted Sequin Blue thread which is cross-stitched through the linen-colored leather. Around the top of the doors there is a genuine Beluga leather which accentuates the elegance of this Bentley.
That, my fellas, is class. I'll take two, please.
Source: Bentley